Press Releases
Comer: Celebrate Agritourism Month at a destination or festival near you
For Immediate Release
Monday, September 15, 2014
For more information contact:
Ted Sloan
(502) 564-1138
FRANKFORT, Ky. — Family-friendly fun on a Kentucky farm is right around the corner no matter where you live in the Commonwealth, Agriculture Commissioner James Comer said as he encouraged all Kentuckians to celebrate September Agritourism Month.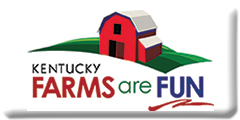 "Kentucky has a wide variety of farm destinations that showcase our unique food culture and our rich agricultural heritage," Commissioner Comer said. "Take your family to a u-pick orchard, a fall festival, a pumpkin patch, a trail ride, or any of a number of other agritourism attractions that are affordable, enjoyable, and close to home."
Travelers may visit the official Kentucky agritourism website, www.kentuckyfarmsarefun.com, and search destinations by type or region. Agritourism operators may find links to valuable resources. The website is administered by the Kentucky Department of Agriculture. The department also publishes Agritourism Monthly, an electronic newsletter targeted to the needs of agritourism operators.

Amelia Wilson, the state's agritourism director, provides marketing assistance to Kentucky agritourism operators.

"At a time when most Kentuckians are generations removed from agriculture, these farm destinations provide an opportunity to restore that connection while providing entertainment and fresh Kentucky Proud foods that the whole family can enjoy," Commissioner Comer said.

To find out more about Kentucky agritourism, contact Amelia Wilson at (502) 782-4136 or amelia.wilson@ky.gov or go to www.kentuckyfarmsarefun.com.