Press Releases
Comer: Take the 10 Percent Challenge and buy more Kentucky Proud foods in 2014
For Immediate Release
Monday, January 13, 2014
For more information contact:
Ted Sloan
(502) 564-1138
FRANKFORT, Ky. — Resolutions are in fashion this time of year, and Agriculture Commissioner James Comer asks you to add one more resolution to your list: Make a commitment to support your local food economy and the Kentucky farm families that supply it by spending at least 10 percent of your food purchases this year on Kentucky Proud products.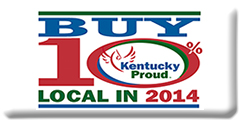 "If every Kentucky family spent just 10 percent of its food dollars on Kentucky Proud items, that would generate more than $500 million to Kentucky farms and agriculture-related businesses," Commissioner Comer said. "That would have a tremendous impact on the economy in every corner of the Commonwealth, rural as well as urban. Just as important, Kentuckians would eat more fresh, nutritious food, which is an important part of a healthy lifestyle, and reduce their carbon footprint by reducing the miles their food travels."
An easy way to accomplish this goal is to join a Community Supported Agriculture (CSA) program near you. A CSA is a community of individuals who share both the bounty and the risk of a farm or group of farms. Typically, members of the CSA pay the farmer(s) in advance for weekly shares of the farm's harvest during the growing season.

Now is the best time of year to join a CSA because each one has a limited number of slots depending on each farm's production capacity. For a directory of CSAs, go to the Kentucky Department of Agriculture website at www.kyagr.com/marketing/CSA.html.

Another easy way to buy Kentucky Proud is to visit your local farmers' market on a regular basis. For a listing of farmers' markets by county, go to www.kyagr.com/marketing/farmers-market-directory.aspx.

If you live in one of Kentucky's two largest cities, you can shop at Kentucky Proud member retailers such as Good Foods Market & Café in Lexington and Earth Fare and ValuMarket in Louisville. In mid-size Kentucky cities, you can find a wide array of Kentucky Proud products in stores such as Midtown Market in Paducah and Trunnell's Farm Market near Owensboro.
Grocery chains such as Kroger, Walmart, and Whole Foods also carry Kentucky Proud products.
Udderly Kentucky milk has been very successful in Walmarts in central and southern Kentucky. Louisville-area Walmarts are expected to carry the Kentucky Proud milk soon. Frozen yogurt retailer Orange Leaf uses 100% Udderly Kentucky milk in its yogurt in 11 of its 15 Kentucky stores. Udderly Kentucky milk is produced by more than 100 dairy farm families in south-central Kentucky and processed by Prairie Farms Dairy of Somerset.

"Are you up to the challenge?" Commissioner Comer asked. "Look for Kentucky Proud foods at your favorite grocery and restaurant. If you don't see them, tell the manager you want Kentucky Proud products."