Press Releases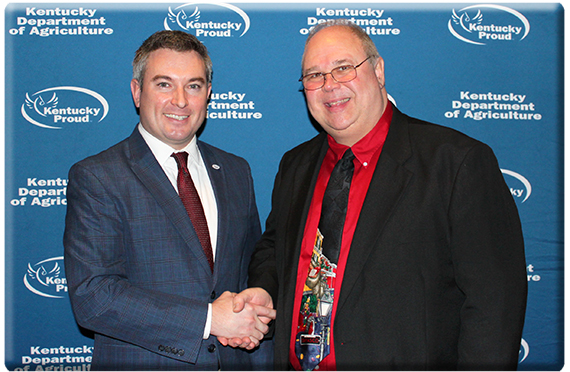 Commissioner of Agriculture Ryan Quarles, left, greets Tim Hughes at a legislative breakfast Feb. 9 in Frankfort. (Kentucky Department of Agriculture photo)
Commissioner Quarles names Tim Hughes deputy executive director of KDA's marketing office
For Immediate Release
Monday, February 8, 2016
For more information contact:
Angela Blank
(502) 573-0450
FRANKFORT, Ky. – Kentucky Commissioner of Agriculture Ryan Quarles announced that Tim Hughes of Frankfort will serve as deputy executive director of the Kentucky Department of Agriculture's Office of Agricultural Marketing and Product Promotion.

"As our leadership team continues to come together, we welcome Tim and his agricultural expertise and leadership to the Department," Commissioner Quarles said. "He will be a valuable team member working with our outstanding marketing and product promotion staff."

Hughes most recently came from the Kentucky Energy and Environment Cabinet, where he led the Division of Biofuels since 2011. Previously, he served as the senior policy analyst of the Governor's Office of Agricultural Policy, where he also held various other roles since 2004.

Hughes is a graduate of Western Kentucky University, where he also served as farm manager in 2002 and 2003. He has served as the state chairman of two young farmer groups and has played leadership roles in various national farm organizations.

"I am thankful for this opportunity to serve as an integral link between KDA's marketing and product promotion staff and our outstanding Kentucky Proud producers," Hughes said. "Through Commissioner Quarles' leadership, I look forward to Kentucky's farmers continuing to fulfill critical economic and national security needs through their contributions of food, feed, fuel, and fiber."

Tim and his wife, Lori, own TLC Farms in southern Kentucky, where he served as an active agricultural leader in the community.