Press Releases
Consider agriculture's importance on National Ag Day and all year long
By Ryan Quarles, Commissioner of Agriculture, Commonwealth of Kentucky
For Immediate Release
Tuesday, March 14, 2017
For more information contact:
Angela Blank
(502) 573-0450
FRANKFORT, Ky. — National Ag Day is Tuesday, March 21, and it is a good time to reflect on some of the many ways agriculture affects us every day.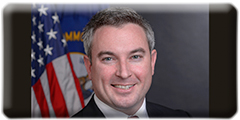 Agriculture is a major economic driver in Kentucky and the United States. Nationally, it is one of few sectors that can boast a trade surplus. In Kentucky, agricultural exports totaled an estimated $1.46 billion in 2015. A University of Kentucky report found that agriculture and related industries in Kentucky had an estimated economic impact of $45.6 billion and accounted for more than 258,000 jobs in 2013.

Agriculture, of course, feeds us all. We rely on farmers and food manufacturers to produce the abundant and affordable foods and beverages that we all depend on – and often take for granted. Thanks to the productivity and efficiency of U.S. agriculture, Americans spend an average of only 9.7 percent of their income on food – the lowest in the world.

Of course, that is not true of all Americans. The lowest 20 percent of the population based on earnings pay as much as 35 percent of their income to feed themselves and their families. Some have to make hard choices to make ends meet. This situation is intolerable, and that is why we launched the Kentucky Hunger Initiative and assembled the Hunger Task Force last year. You can help by checking the box on Line 33 of Form 740 to donate part of your state tax refund to the Kentucky Farms to Food Banks Trust Fund. Together, we can make a difference in the lives of Kentuckians in need.

If you want to learn more about Kentucky agriculture, follow the Kentucky Department of Agriculture's #KyAg365 campaign on Facebook and Twitter. We launched #KyAg365 at the beginning of the year to raise awareness of how agriculture affects every single person 365 days a year! This campaign educates the public on the Kentucky Department of Agriculture's initiatives as well as the importance of agriculture in the lives of all Kentuckians.

We thank everyone who has liked, shared, and retweeted our posts! Many organizations, businesses, and individuals have used the hashtag to mark their own Kentucky ag-related posts. We hope you will watch for more #KyAg365 posts and discover amazing facts about Kentucky agriculture.

On National Ag Day, I hope you will take a moment to consider how your food is produced and where it comes from. And as always, if you like to eat, thank a farmer!