Press Releases
Danville, Lawrenceburg, and Lexington producers named 2015 Local Food Heroes
For Immediate Release
Thursday, August 27, 2015
For more information contact:
Ted Sloan
(502) 564-1138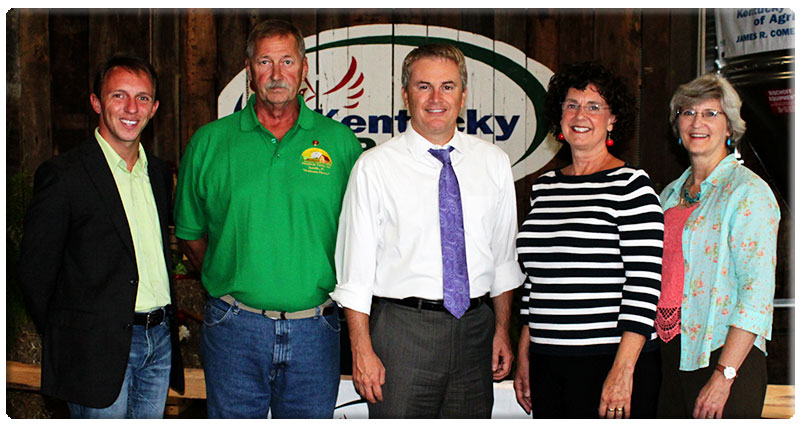 Agriculture Commissioner James Comer, center, joins the 2015 Kentucky Local Food Heroes, (from left) Nathan Truesdell of Lawrenceburg, Sidney Ratliff of Danville, and Kathy Sink and Cindy Nabar of Lexington. (Kentucky Department of Agriculture photo)
LOUISVILLE, Ky. – Kentuckians chose producers from Danville, Lawrenceburg, and Lexington as the 2015 Local Food Heroes, Agriculture Commissioner James Comer and Louisville Mayor Greg Fischer announced today.
Sidney Ratliff of Danville, Kathy Sink and Cindy Nabar of Lexington, and Nathan Truesdell of Lawrenceburg were the top vote-getters among dozens of farmers from across the Commonwealth.
"These Local Food Heroes were selected by their fellow Kentuckians for their hard work and their dedication to the mission of producing fresh, nutritious foods for their customers to enjoy," Agriculture Commissioner James Comer said. "These awards are a small token of our appreciation for everything they do."
"We think it is important to remember to take the opportunity to publicly recognize and celebrate the work of the good people who grow food for all of us," said Caroline Heine, co-founder and project director of Seed Capital KY, one of the partners in the Local Food Heroes awards. "From small urban growers to larger rural farmers, each of these food heroes is an essential part of our local food system, and we are deeply grateful for their efforts."
Sink and Nabar produce tomato plants. Truesdell is a produce grower who operates Circle T Farms. Ratliff owns Mozybeau Farms, a producer of heirloom seeds and vegetables.
"As a first-year farmer, winning the Local Food Hero award is enough in itself," Truesdell said. "But for my customers to believe in me, go and vote for me … I'm astounded, in awe of the support I have in my community."
"I love the Kentucky Proud program," said Ratliff, who also is a member of Homegrown By Heroes, a brand that designates farm products produced by Kentucky military veterans. "It helps our farmers' market, and when people see our Homegrown By Heroes products … well, it goes a long way; they appreciate that."
"[Cindy and I] think being Kentucky Proud really helped with marketing," Sink said. "People appreciate that good feeling, that they're buying local and supporting Kentucky farmers."
The Local Food Heroes awards are a partnership of the Kentucky Department of Agriculture, Seed Capital KY, and Louisville Metro. The awards are sponsored by Farm Credit Mid-America.