Press Releases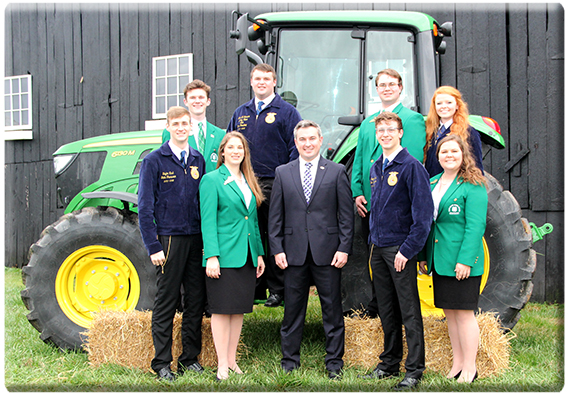 Commissioner of Agriculture Ryan Quarles, center, with Kentucky 4-H and FFA officers in December. (Kentucky Department of Agriculture photo)
Commissioner Quarles: Give to the Ag Tag Fund to support the future of Kentucky agriculture
For Immediate Release
Wednesday, February 17, 2016
For more information contact:
Angela Blank
(502) 573-0450
FRANKFORT, Ky. – Commissioner of Agriculture Ryan Quarles is crisscrossing the Commonwealth to encourage Kentucky motorists to make a voluntary $10 donation to the state Ag Tag Fund when they buy or renew their farm vehicle license plates.

"A great way to celebrate being a Kentucky farmer is to donate $10 to the Ag Tag Fund when you purchase your Kentucky Farm License Plate," Commissioner Quarles said. "Make the donation – and support the future of Kentucky agriculture!"

The donation is divided equally among Kentucky 4-H, Kentucky FFA, and the Kentucky Department of Agriculture for promotional programs such as Kentucky Proud. The "ag tag" donations generated $540,357 in fiscal 2015. Half of the 4-H and FFA funds go back to the county where the tag is purchased for these two outstanding youth development programs.

Examples of how County 4-H Councils use funds include providing local programming, paying for leadership and citizenship opportunities, and funding 4-H camp scholarships. The Kentucky 4-H Foundation used its portion to support statewide programs such as engineering events, the Issues Conference, the Performing Arts Troupe, the 4-H Summit, and state officer scholarships.

FFA chapters receive Ag Tag support in the form of Ag Achiever grants, which cover capital improvements in agricultural education facilities and curriculum. Kentucky FFA awards each of the 12 FFA regions $1,000 annually to cover their regional FFA banquets; supplement travel and clothing for the State FFA Officer Team; and award funding to university educators to cover their travel while supporting FFA events.