Press Releases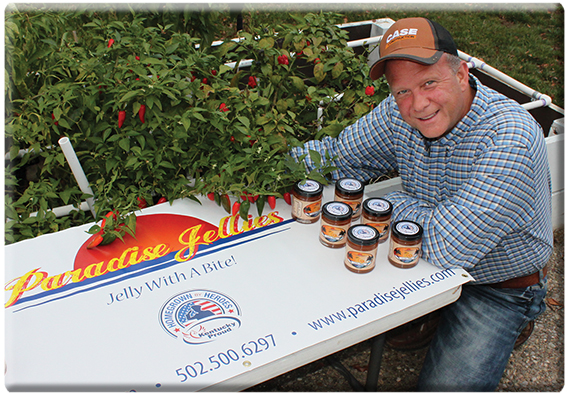 Kris Wissing with his Paradise Jellies and the peppers that give them their "bite." (Kentucky Department of Agriculture photo)
Homegrown By Heroes opens retail doors for Kentucky military veteran farmers
For Immediate Release
Thursday, November 5, 2015
For more information contact:
Ted Sloan
(502) 564-1138
FRANKFORT, Ky. – They served our Commonwealth and our country in the United States Armed Forces. Now, many Kentucky military veterans are continuing their service in agriculture, providing the food and fiber we all need to sustain our quality of life.
Homegrown By Heroes aims to help Kentucky's veteran farmers forge careers in agriculture. The program is administered by the Kentucky Department of Agriculture. The brand designates farm products produced and value-added by Kentucky veterans.

The program also helps veteran producers open new markets in grocery stores and restaurants.

"These partnerships benefit veterans, retailers, and consumers alike," said Agriculture Commissioner James Comer, who launched the program in January 2013. "Veteran producers get new outlets for their products. Retailers are able to offer the high-quality local foods their customers are looking for. Consumers can say 'Thank you' to our veterans by buying Homegrown By Heroes products where they shop or dine out."

Kris Wissing, a Marine Corps veteran who operates Paradise Jellies of Louisville, got word Nov. 3 that his Florida Orange spicy fruit jelly soon will be stocked in 60 Kroger supermarkets throughout Kentucky.

"We're elated," Wissing said. "I couldn't have done it without the [Kentucky] Department of Ag. I'm a firm believer that's one of the main reasons we were able to move forward. Homegrown By Heroes is truly an amazing program. Whether we get reorders or not remains to be seen, but at least it opened the door. We would not have even had the opportunity without Homegrown By Heroes and the Department of Ag."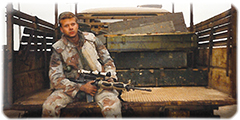 Wissing grows Trinidad Scorpion peppers and infuses them in his spicy fruit jellies. He plans to source blackberries locally in the future.
Wissing, who lives in Jeffersontown, is a project manager for Abel Construction in Louisville. While in the military, Wissing saw combat during Operation Desert Storm, and he was disabled due in part to post-traumatic stress disorder. He uses his business and gardening as therapy.

"When I need some alone time, I get in the kitchen or out in the garden," Wissing said.

Paradise Jellies also are available in Liquor Barn stores in the Louisville area.

Ed and Lora Ginter of Woodford County run Bluegrass Aquaponics, which raises fish and hydroponic vegetables, using the fish waste to fertilize the vegetables. Bluegrass Aquaponics provides lettuce and cucumbers to Common Grounds Coffee of Lexington for its salads and sandwiches. Bluegrass Aquaponics is growing tomatoes and green peppers to supply to Common Grounds in the near future.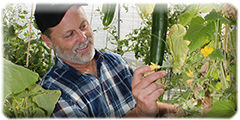 Ginter said the partnership began with an email from the KDA's marketing office asking who could provide lettuce and cucumbers for Common Grounds.
"The email … opened the door," Ginter said. "The partnership is the kind of thing we had hoped for when we signed up for Homegrown By Heroes."

Ginter served 21 years as a pilot in the U.S. Air Force. He works for Precision Agricultural Services in Versailles, which provides consulting for the agriculture industry.

The Ginters said the Homegrown By Heroes logo helps set their business apart. "A number of military people will stop and talk after seeing the logo, so it's a conversation starter," said Lora, who sells at farmers' markets.

Added Ed: "I think Homegrown By Heroes is still in its infancy, so a lot of people haven't learned about it yet. But most everybody is familiar with and can identify with Kentucky Proud. Once they see the relationship between the two, it opens up more doors."

Dallas Robinson of LaRue County provided blackberries to Vinaigrette Salad Kitchen of Lexington this year. "It was sort of a trial run, but it was super exciting because now I can plan appropriately for next year and grow the amount that they need," said Robinson, a sergeant in the Kentucky National Guard and an Olympic athlete.

"It's really neat to have this thing where Dallas is working hard and has this great history as a Kentuckian who served our country," said Bryce Anderson, co-owner of Vinaigrette Salad Kitchen. "People in Lexington don't know Dallas, but because we made this lemonade with his blackberries, people get to know him. So it's cool to be a bridge between Dallas and the people of Lexington."

Robinson and Anderson credited Homegrown By Heroes with making the connection. "I am 99 percent sure I wouldn't have received a call from [Vinaigrette] if it weren't for my affiliation with Homegrown By Heroes," Robinson said. "[The KDA does] a fantastic job of getting out in the community and letting people know that veterans have products to bring to market."

Robinson said Homegrown By Heroes raises consumer awareness of veteran-produced farm products. "Prior to Homegrown By Heroes, there wasn't a way to get our story and brand into the marketplace," he said. "This gives us leverage, a tool to use to tell our story for us. From what I can tell across all areas of agriculture, the demand is very high and should continue to grow as we get more veterans in farming and educate consumers."

Paul Dengel of Whitley County grows certified organic romaine lettuce for The Weekly Juicery in Lexington and lettuce, tomatoes, and garlic for the Wrigley Taproom & Brewery in Corbin.

Homegrown By Heroes "gives me a chance to take a seed all the way to market. It gives me confidence I'll have a market," said Dengel, the Whitley County Extension agent for horticulture. "It's great knowing there's somebody I can call when I've got something and say, 'Do you know anybody who wants it?' Having an outlet is really nice."

Dengel served in the U.S. Air Force from 2006-2010. He rose to the rank of senior airman and traveled to five continents during his service.

"The Weekly Juicery is a big supporter of veterans. Wrigley loves the Kentucky Proud and Homegrown By Heroes brand. They think it's great," Dengel said. "When I eat at the restaurant, the owner will say, 'You like those tomatoes? That couple over there [the Dengels] grew those tomatoes. Go over there and tell them thanks.' It's a cool experience."

Homegrown By Heroes expanded nationally on Veterans Day 2013, and today the program claims more than 275 members in 43 states. Eight states have adopted the Homegrown By Heroes brand, with many more scheduled to follow suit in the near future.

To find out more about Homegrown By Heroes, go to www.homegrownbyheroes.com.
Middle photo: Kris Wissing served as a scout/sniper for the Second Marine Division during Operation Desert Storm in 1991. (Photo courtesy Kris Wissing)
Bottom photo: Ed Ginter admires one of his hydroponically-grown cucumbers that is almost ready for harvest. (Kentucky Department of Agriculture photo)