Press Releases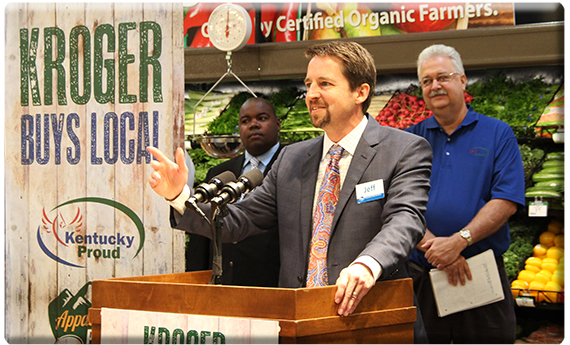 Jeff Talbot, vice president of merchandising for Kroger's Cincinnati/Dayton Division, welcomes Kentucky Proud farmers and agribusiness operators at a ceremony to launch dozens of Kentucky Proud products in Kroger supermarkets in northern Kentucky on Thursday in Florence. (Kentucky Department of Agriculture photo)
Kentucky Proud, Kroger expand partnership in northern Kentucky Kroger supermarkets
For Immediate Release
Thursday, September 24, 2015
For more information contact:
Ted Sloan
(502) 564-1138
FLORENCE, Ky. – Kroger will add dozens of Kentucky Proud items in its northern Kentucky supermarkets, expanding a partnership of the national chain and Kentucky's official farm marketing program, officials with Kroger and the Kentucky Department of Agriculture announced today.
"Kroger is reinforcing its commitment to Kentucky Proud family farmers and agribusinesses," Kentucky Agriculture Commissioner James Comer said. "This will give northern Kentucky consumers a wider selection of local foods to take home for their families while providing local producers a new market for their products."

In a news conference at the Kroger Florence Marketplace, officials announced that 16 northern Kentucky supermarkets will be stocked with 58 new Kentucky Proud items from 24 vendors, including four from northern Kentucky. The first week's order will total $50,000. The items will appear in a special Kentucky Proud kiosk in each store.

"At Kroger we are always listening to our customers and what they want," said Jeff Talbot, vice president of merchandising for Kroger's Cincinnati/Dayton Division. "Customers tell us they want fresh and local – Kentucky Proud is responding to our customers' interest and demands. Supporting local is also good for our local growers right here in Kentucky. We couldn't be more excited to offer these unique locally made products to our customers."

Fishmarket Seafood, a family-owned distributor in Louisville, will distribute the products to the Kroger stores.

The announcement follows up on the record-setting launch in November 2014 of 125 Kentucky Proud products in 88 Kentucky stores in Kroger's Louisville division. The initial purchase filled a 10,000-square-foot warehouse and totaled $350,000, a record for a single transaction in the history of Kentucky Proud.
Featured guests on hand for the Florence event included:
Jeff Talbot, Dave Meiering, Denton Davis, and Patty Leesemann of Kroger's Cincinnati/Dayton Division
Steve and Brad Smith of Fishmarket Seafood
Rachel DesRochers, owner of Grateful Grahams, founder of the Northern Kentucky Incubator Kitchen, which houses 10 small northern Kentucky businesses, nine of which are entirely owned by women
Mavis Linnemann-Clark, owner of The Delish Dish and Made by Mavis
Carolyn and Jacob Gahn, owners of Sweetgrass Granola of Crab Orchard

To find out more about the Kroger-Kentucky Proud partnership, go to www.kyproud.com/kroger.