Press Releases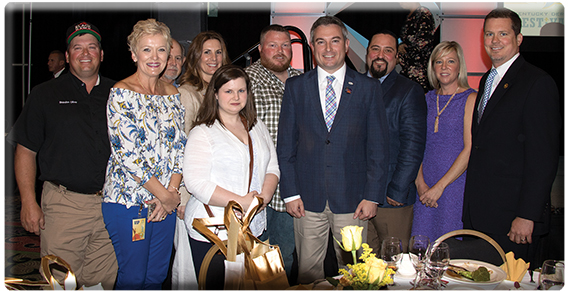 Agriculture Commissioner Ryan Quarles, center, greets Kentucky Proud producers who provided some of the local foods for the They're Off! Luncheon Friday in Louisville. Pictured with Commissioner Quarles are, from left: Brandon and Molly Oliver of Black Hawk Farms; Bert Robinson and Amy Waddell of Superior Meats; Britany and Cameron Taylor of Whitaker Run Farm; Patrick Webb of Frondosa Farms; and Amanda and Mac Dehart of Groganica Farms. (Kentucky Department of Agriculture photo)
Kentucky Proud foods fill the plates at the They're Off! Luncheon
Annual event kicks off the Kentucky Derby Festival
For Immediate Release
Friday, April 21, 2017
For more information contact:
Ted Sloan
(502) 782-0285
LOUISVILLE, Ky. — A capacity crowd of more than 1,500 enjoyed a meal highlighted by Kentucky Proud products at the 61st annual They're Off! Luncheon on Friday in Louisville.
"The Kentucky Derby elevates the Commonwealth to a global stage, and it also gives Kentucky Proud products and producers a chance to shine," Agriculture Commissioner Ryan Quarles said. "These Kentucky Proud foods, and hundreds of others like them, are some of the freshest, best-tasting foods you'll find anywhere. And buying Kentucky Proud helps a farm family or a small Kentucky business make a living."

Guests at the They're Off! Luncheon enjoyed foods from the following Kentucky Proud farms: Black Hawk Farms of Princeton, Frondosa Farms of Simpsonville, Groganica Farms of Louisville, Kenny's Farmhouse Cheese of Austin, Peterson Farm of New Hope, Stone Cross Farm of Taylorsville, Townsend Sorghum of Jeffersonville, and Whitaker Run Farm of Mt. Washington. Bourbon Barrel Foods, Dean's Dairy, and Kern's Kitchen, all of Louisville, and Davis Creek Meats of Walton also provided ingredients for the meal.

College basketball analyst Seth Davis served as the keynote speaker at the luncheon, which kicked off the Kentucky Derby Festival. Kentucky Proud is a contributing sponsor of the Kentucky Derby Festival.
The Kentucky Proud WineFest on May 2-3 will showcase wines from 13 Kentucky wineries as well as Kentucky Proud foods. The Derby Festival leads to the Kentucky Oaks on May 5 and the Kentucky Derby on May 6 at Churchill Downs.

"Whether you can name all 142 Kentucky Derby winners, or whether you don't know an exacta from an
X-Acto knife, I hope you'll join us in celebrating this special time of year in Kentucky," Commissioner Quarles said. "And I hope Kentucky Proud will be a core part of your celebration!"