Press Releases
Paducah dinner features Kentucky Proud and benefits local interfaith ministry
For Immediate Release
Wednesday, July 31, 2013
For more information contact:
Ted Sloan
(502) 564-1138
PADUCAH, Ky. — Kentucky Proud was on the menu at the Farm to Table Dinner on July 30 at Cynthia's California Tuscan Ristorante in Paducah. A sellout crowd of 55 people enjoyed a bounty of foods grown, raised or processed in Kentucky by Kentuckians and prepared by one of Paducah's leading chefs.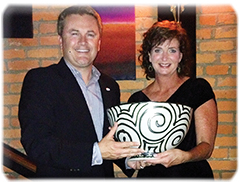 "The Farm to Table Dinner was a great opportunity to show off our outstanding Kentucky Proud foods," Agriculture Commissioner James Comer said. "It was a joy to experience the delicious dishes from Bill and Cynthia Gardner and their staff. And the dinner helped a very deserving cause."
Proceeds from the Farm to Table Dinner benefited Paducah Cooperative Ministry, which provides emergency food aid, emergency assistance for rent and utilities, a homeless shelter, support for women transitioning from incarceration, and other services to the less fortunate in the Paducah community. PCM anticipates spending more than $650,000 on its services in 2013. The interfaith organization is celebrating its 40th anniversary this year.

The dinner spotlighted a cross-section of Kentucky Proud producers, including:
Bourbon Barrel Foods, Louisville
Colonel Bill Newsom's Aged Kentucky Country Ham, Princeton
JD Country Milk, Russellville
Kenny's Farmhouse Cheese, Austin
Kentucky Hydro Farm, Benton
Kights Pecans, Kevil
Marksbury Farm Market, Lancaster
Paducah Farmers' Market
Purple Toad Winery, Paducah
Townsend Sorghum Mill, Jeffersonville
Twin Willow Farm, Bardwell
Angel's Envy Bourbon of Louisville offered a bourbon tasting during the event.
Commissioner Comer said the greater Paducah area is one of the fastest-growing markets for Kentucky Proud products in the state. He said he and the Kentucky Department of Agriculture's marketing staff will work with local officials, business leaders, and producers to expand the program in the area.

"More and more restaurants are serving Kentucky Proud foods because of their quality and freshness," Commissioner Comer said. "But families also can enjoy Kentucky Proud foods at home. I hope this event will raise awareness about the wonderful Kentucky Proud foods that are available in this area and all over the commonwealth."

Kentucky Proud is the official state farm marketing program. Thousands of producers, processors, retailers, restaurants, farmers' markets, school districts, Kentucky state parks, and Kentucky Farm Bureau roadside markets are members of Kentucky Proud. The program is supported through grants from the Kentucky Agricultural Development Fund and administered by the Kentucky Department of Agriculture.

For more information about Kentucky Proud, including a directory of members, go to www.kyproud.com. For information about Kentucky's more than 65 wineries, go to www.kentuckywine.com or download the free Kentucky Wine Trails app for iOS or Android.
Agriculture Commissioner James Comer presents Cynthia Gardner, co-owner of Cynthia's California Tuscan Ristorante in Paducah, with a Louisville Stoneware bowl for hosting the Kentucky Proud Farm to Table Dinner July 30 in Paducah. (Kentucky Department of Agriculture photo)