Press Releases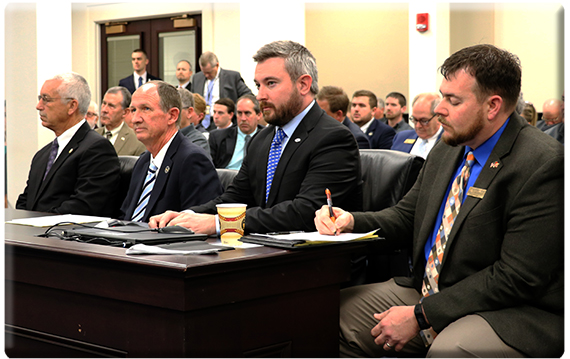 Agriculture Commissioner Ryan Quarles, second from right, testifies in support of House Bill 174 in Wednesday's meeting of the House Agriculture Committee in Frankfort. (Kentucky Department of Agriculture photo)
Quarles backs bill to make Kentucky agriculture more competitive
Legislation would extend weight tolerance for vehicles carrying farm products, feed
For Immediate Release
Wednesday, February 8, 2017
For more information contact:
Angela Blank
(502) 573-0450
FRANKFORT, Ky. — Agriculture Commissioner Ryan Quarles endorsed legislation that would help Kentucky farmers transport their goods more efficiently and make Kentucky agriculture more competitive with other states.
House Bill 174, sponsored by state Rep. Richard Heath of Mayfield, passed in the House Agriculture Committee on Wednesday morning. The measure would extend a 10 percent weight tolerance for vehicles carrying poultry, livestock, meats, crop products, or feed for livestock and poultry on state roads other than interstate highways.

"The poultry industry has experienced dramatic growth in Kentucky in recent years, and this legislation will enable poultry producers to compete on a level playing field with producers in other states," Commissioner Quarles told the House Agriculture Committee. "Supporting our poultry industry with this bill also will help corn growers and other Kentucky agricultural industries."

Poultry and eggs are Kentucky's leading agricultural commodity with more than $1 billion a year in cash receipts to Kentucky producers. Kentucky's poultry industry is the largest purchaser of Kentucky-grown corn and soybeans.