Press Releases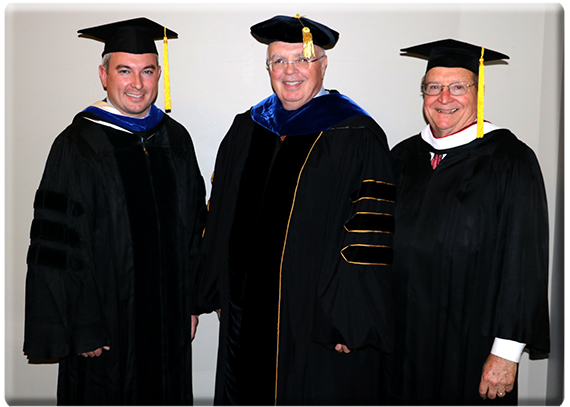 Kentucky Agriculture Commissioner Ryan Quarles, left, joins Auburn University Provost Timothy R. Boosinger, center, and Alabama Commissioner of Agriculture and Industries John McMillan at the Auburn University College of Veterinary Medicine commencement ceremony Tuesday. (Auburn University photo)
Quarles commends veterinary school graduates
Ag commissioner hails pact that enables Kentucky students to attend Auburn vet school
For Immediate Release
Wednesday, May 4, 2016
For more information contact:
Angela Blank
(502) 573-0450
AUBURN, Ala. – The practice of veterinary medicine is a challenging career of service that "will be more fulfilling than you can ever imagine," Kentucky Agriculture Commissioner Ryan Quarles told the 2016 graduating class of Auburn University's College of Veterinary Medicine at the commencement ceremony on Tuesday.

"Your graduation today sets you on a path of service that provides both rural and urban communities with an invaluable resource," Commissioner Quarles said. "You are tasked with being there for pet owners and farmers in their time of need. As you end your time here and begin to work in communities, cities and rural towns, know that your hard work has set you on a path to success."

The Auburn veterinary school contracts with the Commonwealth of Kentucky for 38 seats and allows Kentucky students to pay in-state tuition under an agreement among Auburn, Kentucky, and the Southern Regional Education Board. Commissioner Quarles commemorated the 65th year of the agreement and credited it with enabling Kentucky students to earn veterinary medical degrees. The 2016 class includes 35 graduates from Kentucky.

Two Kentucky members of the class of 1955, Abram Allen of Paducah and Steele Mattingly of Villa Hills, were recognized. Alice Mills of Lexington, president of the Kentucky Veterinary Medical Association, represented the organization at the ceremony.

Wade A. Northington of Hoover, Ala., retired director of the Murray State University Breathitt Veterinary Center in Hopkinsville, was one of three alumni who were recognized as 2016 Wilford S. Bailey Distinguished Alumni. The award is the highest honor given to an alumnus of the College of Veterinary Medicine.