Press Releases
Commissioner Quarles to launch first-ever Kentucky Hunger Initiative
For Immediate Release
Thursday, May 26, 2016
For more information contact:
Angela Blank
(502) 573-0450
FRANKFORT, Ky. — One out of every six Kentuckians – including one in four children – is food insecure. Through the Kentucky Department of Agriculture's Hunger Initiative, farmers, businesses, charitable organizations, faith groups, community leaders, government entities, and other Kentuckians will work together to search for ways to combat hunger in the Commonwealth.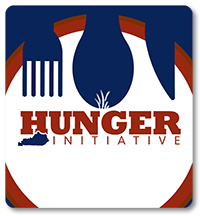 A news conference to introduce the members of the Hunger Task Force is scheduled for June 2 at 9:30 a.m. EDT at Gallrein Farms, 1029 Vigo Road, Shelbyville. The initial meeting of the task force will follow at 10 a.m.
"The members of the task force will bring their unique perspectives to this persistent problem," Agriculture Commissioner Ryan Quarles said. "By bringing together the people who grow our food, sell our food, and distribute our food, we hope to find novel approaches that could help to alleviate the underlying issues of hunger in Kentucky."
Map the Meal Gap 2016, an annual study by Feeding America, revealed that 17 percent of Kentucky's population is food insecure – nearly three-quarters of a million people in all. The Kentucky Department of Agriculture works with The Kentucky Association of Food Banks and its local affiliates in the fight against hunger in Kentucky. The KAFB administers the Farms to Food Banks program, which buys surplus and Number 2 grade produce from Kentucky farmers and distributes it to local food banks.
"We applaud Commissioner Quarles' leadership and commitment to addressing hunger in Kentucky through the formation of the Hunger Initiative," said Tamara Sandberg, executive director of the KAFB. "Our hope is that innovative solutions to hunger can be identified and creative public partnerships can be implemented as a result of this effort."
"Having such a dire hunger problem in Kentucky, with its rich agricultural history and abundant natural resources, is unacceptable," Commissioner Quarles said. "Together, we can make healthy, nutritious foods accessible to more Kentuckians."
For more information about the Hunger Task Force, go to kyagr.com/hunger. To find out more about the Kentucky Association of Food Banks, go to kafb.org.