Press Releases
Sean Southard named KDA communications director
Owensboro native, communications professional joins the KDA team
For Immediate Release
Wednesday, July 5, 2017
For more information contact:
Ted Sloan
(502) 782-0285
FRANKFORT, Ky. — Sean Southard of Louisville has been named the Kentucky Department of Agriculture's director of communications, Agriculture Commissioner Ryan Quarles has announced.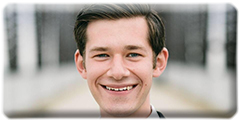 "Sean has gained valuable experience in the public and private sectors in a short time," Commissioner Quarles said. "As a native Kentuckian, he knows the values and the culture of the Commonwealth, and as a millennial, he is deeply familiar with the changing communications landscape in the age of social media. We are thrilled to welcome him to the Kentucky Department of Agriculture."

Southard previously was with RunSwitch PR in Louisville, where he developed and executed messaging strategies for clients such as Amazon.com, Kentucky Farm Bureau, and Kentuckians for Strong Leadership.

"It is an honor to join the Kentucky Department of Agriculture and to work for Commissioner Quarles," Southard said. "I look forward to communicating the good work he and the department are doing on behalf of our farm families."

Southard is a graduate of the University of Louisville, where he studied political science and history. While a student, he served in the Washington office of U.S. Senator Mitch McConnell and the field office of U.S. Representative Brett Guthrie.

A native of Owensboro, Southard assumed his new post on June 26.