Press Releases

Agriculture Commissioner Ryan Quarles talks about the mission of the Hunger Task Force as Tamara Sandberg, executive director of the Kentucky Association of Food Banks, looks on. (Kentucky Department of Agriculture photo)
Task force begins discussion on combating hunger in Kentucky
Panel includes leaders in agriculture, government, business, charity, faith groups
For Immediate Release
Thursday, June 2, 2016
For more information contact:
Angela Blank
(502) 573-0450
SHELBYVILLE, Ky. — The Kentucky Hunger Task Force began its search for innovative solutions to reduce food insecurity in the Commonwealth during its first meeting Thursday at Gallrein Farms in Shelby County. The Hunger Task Force is a product of the Kentucky Department of Agriculture's first-ever Hunger Initiative.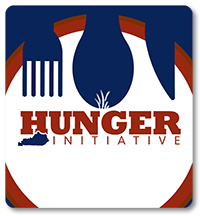 "The members of the task force will bring a vast array of expertise and experiences to apply to this critical issue," Agriculture Commissioner Ryan Quarles said. "This isn't a rural or urban problem, or even a regional problem. This is a problem for all of Kentucky. I'm grateful to everyone on the task force for committing their time and effort to the cause of helping Kentucky's most vulnerable citizens."
"Individuals, charities, businesses, and government all have a role to play in addressing hunger," said Tamara Sandberg, executive director of the Kentucky Association of Food Banks. "The Hunger Initiative will provide the opportunity for key stakeholders to work together to identify gaps and direct resources to fill those gaps. Together, we can help solve hunger in Kentucky."

Members of the task force include:
Laura Melillo Barnum, executive director of YUM! Foundation and Global Community Investment, YUM! Brands
David Beck, executive vice president, Kentucky Farm Bureau
Warren Beeler, executive director, Governor's Office of Agricultural Policy
Rodney Booe, pastor, Campbellsville Christian Church
Danielle Bozarth, programs director, God's Pantry Food Bank
Tony Brannon, dean, Hutson School of Agriculture, Murray State University
Gina Carrington, assistant director of Community Based Services, Cabinet for Health and Family Services
Spencer Coates, president, Houchens Industries
Mary Courtney, Shelby County farmer
Nancy Cox, dean, University of Kentucky College of Agriculture, Food and Environment
Valerie Crouch, program manager for school and community nutrition, Kentucky Department of Education
David Dodd, executive director, National Center for Hospitality Studies, Sullivan University
Thomas Fern, Kentucky state director, USDA Rural Development
Jamie Guffey, executive director, Kentucky Poultry Federation
Bonnie Jolly, executive director, Kentucky Pork Producers
David Maples, executive vice president, Kentucky Cattlemen's Association
Ted Mason, executive director, Kentucky Grocers Association
Tim McGurk, director of public affairs, Kroger Louisville Division
Ryan Quarles, Kentucky commissioner of agriculture
Martin Richards, executive director, Community Farm Alliance
Brian Riendeau, executive director, Dare to Care
Tamara Sandberg, executive director, Kentucky Association of Food Banks
Suzanne Cecil White, Daviess County farmer
Stephanie Wooten, executive director, GLEAN KY

Map the Meal Gap, an annual study by Feeding America, revealed that 17 percent of Kentucky's population – 1 in 6 – was food insecure in 2014, meaning they lacked access to enough food for an active, healthy life for all household members.

The Hunger Task Force is part of the Kentucky Department of Agriculture's Hunger Initiative, a first-of-its-kind effort to alleviate food insecurity in Kentucky. The objectives of the Hunger Task Force will be to study the sources of hunger, identify the unique issues that affect different regions of the Commonwealth, and take an inventory of resources that can be brought to bear against the hunger problem in Kentucky.

The task force will hold a series of regional meetings throughout the state to hear from volunteers fighting hunger at the local level. Specific times and locations of the meetings will be announced at a later date.

For more information about the Hunger Task Force and the Hunger Initiative, go to kyagr.com/hunger.