Press Releases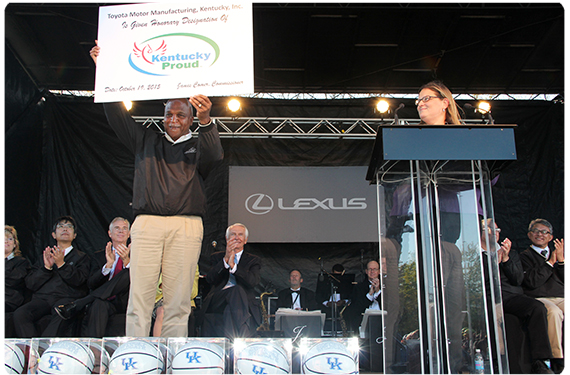 Wil James, president of Toyota Motor Manufacturing Kentucky, shows off the plant's honorary Kentucky Proud designation presented by Kristen Branscum, right, executive director of the Kentucky Department of Agriculture's marketing office. (Kentucky Department of Agriculture photo)
Toyota serves Kentucky Proud foods at event to unveil the first Kentucky-made Lexus ES 350
For Immediate Release
Tuesday, October 20, 2015
For more information contact:
Ted Sloan
(502) 564-1138
GEORGETOWN, Ky. – Guests at Monday's unveiling of the first Kentucky-made Lexus ES 350 were treated to a Kentucky Proud feast during the event at the Toyota Motor Manufacturing Kentucky plant in Georgetown.
The Kentucky plant received an honorary Kentucky Proud designation for including local foods in the Lexus event and in its food service system.

"Toyota has earned this honorary Kentucky Proud designation as a steadfast supporter of Kentucky farmers and food producers," Agriculture Commissioner James Comer said. "We're grateful to Toyota for its continuing commitment to Kentucky Proud producers and to the Commonwealth of Kentucky as a whole. Toyota has been one of Kentucky's leading corporate citizens since it announced the Georgetown plant 30 years ago."

"With over 100 local suppliers and a team of 7,500 Kentuckians building great cars in Georgetown, we take a lot of pride in officially joining the Kentucky Proud family," said Wil James, president of Toyota's Kentucky plant. "Across our communities, the Kentucky Proud mark is one that people know and depend on, and we're honored to partner with a program that highlights local craftsmanship and quality Kentucky products."

Kentucky Proud foods served at the Lexus unveiling included Kentucky Proud Popcorn grown by farmers in western Kentucky; grit cakes using mixes from Weisenberger Mill in Midway and local jams and vegetables; mini biscuits with country ham from Morgan County; mini caramel apples and hot spiced apple cider from Evans Orchard in Georgetown; and bottled water from Highbridge Springs in Wilmore.

Sodexo, the food service contractor for Toyota's Georgetown plant, serves meals that include Kentucky Proud foods to more than 3,000 Toyota employees daily.

The 2016 Lexus ES 350 is the first Lexus to be manufactured in the United States.