Kentucky Ag News
Botts named KCARD executive director
Kentucky Center for Agriculture and Rural Development
ELIZABETHTOWN, Ky. - The Kentucky Center for Agriculture and Rural Development (KCARD) board has announced Aleta Botts has been appointed KCARD's new executive director, effective April 1.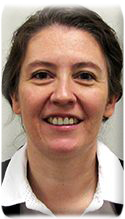 "The KCARD board is excited to have Aleta to serve as the next executive director for KCARD," said Derrick Waggoner, KCARD board president. "She has a unique mix of skills and experiences in agriculture, both within Kentucky and nationally, that will allow her to provide the leadership and vision needed for KCARD to continue meeting its mission for the state of Kentucky."

As executive director, Botts will continue KCARD's dedication to facilitating agricultural and rural business development in Kentucky.

"Agricultural and food businesses are booming in Kentucky. KCARD serves to help these businesses make whatever next step they are considering. As a result, our rural economies and the entire Commonwealth benefits," said Botts. "I am looking forward to helping contribute to this mission."

Botts comes to KCARD after working with the organization as the Kentucky Grant Facilitation Program Coordinator. In that position, she worked with Kentucky producers and agricultural businesses to help them identify funding opportunities and resources. Botts explained that it was then she had the opportunity to see that through the investments provided by USDA and the Kentucky Agricultural Development Board, KCARD has become the leading source for technical assistance and business planning for new agricultural and food-related businesses in the Commonwealth.

"KCARD's work with farmers and rural businesses brings new opportunities for our rural communities, creates jobs for Kentuckians, and creates long-lasting benefits for producers and consumers alike in the region," said Botts. "Community and rural development is a passion of mine, and I am excited to have the opportunity to be working with an outstanding staff and board to help Kentucky farmers and entrepreneurs make a difference in their operations and our rural economy,"

Botts is a native of Menifee County and a graduate of the University of Kentucky. She spent almost 10 years working on agricultural and other issues at the federal level as a policy staffer in the U.S. House of Representatives in Washington, D.C. before returning to Kentucky in early 2011. Since that time, in addition to her work with the Grant Facilitation Program, Botts has been helping Kentucky producers and others in the state understand the policy process and the farm bill through her position as agricultural policy outreach director at the University of Kentucky.

The Kentucky Center for Agriculture and Rural Development fosters business success and growth by developing and delivering technical assistance and by providing educational opportunities for agricultural and rural businesses seeking to enhance their economic opportunities. For more information, visit www.kcard.info and "Like" KCARD on Facebook.