Press Releases
Taylor Fry wins state Farm to School Art Contest
FOR IMMEDIATE RELEASE
Thursday, December 20, 2012
For more information contact:
Holly VonLuehrte
(502) 573-0450
FRANKFORT, Ky. — Taylor Fry of Campbell Ridge Elementary School was named the winner of the 2012 Kentucky Farm to School Art Contest.

"I appreciate the efforts of all the students who entered the contest," Agriculture Commissioner James Comer said. "This contest is just another way the Kentucky Department Agriculture educates our school children about the importance of fresh, local Kentucky Proud foods."

A fourth-grader at Campbell Ridge, Taylor received $50 for submitting the winning artwork from among hundreds of entries from throughout the state. Stephanie Caldwell, the school's food service director, will receive a visit from Chef Jim Whaley, who works with Jefferson County Public Schools and the Grasshoppers distribution center in Louisville.

The runner-up was Cecilia Reed, a fourth-grader at Mason Corinth Elementary School in Grant County. Cecilia received $25, and her school's food service director, Margaret Prewitt, received Farm to School aprons for herself and her staff. Third place went to Caroline Cockrell, a fourth-grader at Mapleton Elementary School in Montgomery County. Caroline received $25, and her school's food service director, Julie Tuttle, received a Farm to School gift basket.

The KDA's Farm to School Program connects local farmers to school districts to make fresh Kentucky Proud foods available to Kentucky children. Thirty-one Kentucky school districts that participate consistently in the Farm to School Program spent some $280,000 on local foods during the 2011-2012 school year. Those school districts serve approximately 325,000 students. A total of 84 school districts are members of the Kentucky Proud program, which helps Kentucky farmers market their products.

For more information about the Farm to School program, go to www.kyagr.com/consumer/farm-to-school.html.
2012 Farm to School Art Contest winners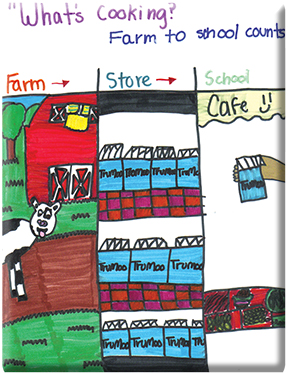 First Place:
Taylor Fry
Fourth Grade
Campbell Ridge Elementary School, Alexandria
Stephanie Caldwell, food service director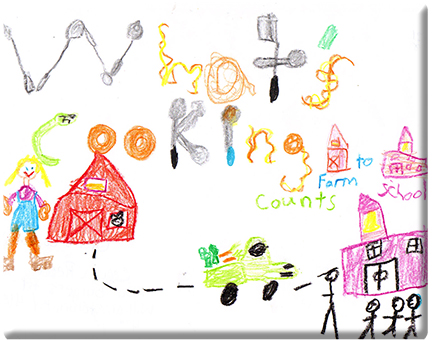 Second Place:
Cecilia Reed
Fourth Grade
Mason Corinth Elementary School, Williamstown
Margaret Prewitt, food service director
Third Place:
Caroline Cockrell
Fourth Grade
Mapleton Elementary School, Mt. Sterling
Julie Tuttle, food service director