Kentucky Ag News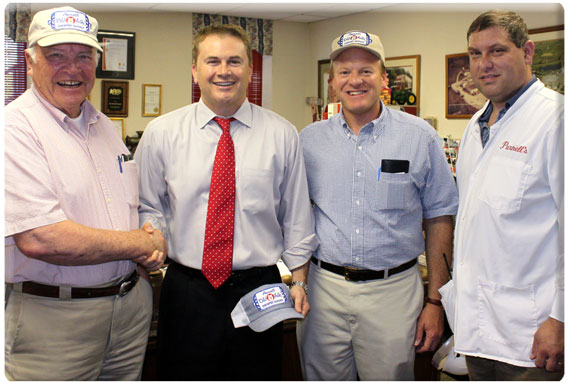 Kentucky Proud businessman Purnell, sportscaster Hammond honored by UK
UNIVERSITY OF KENTUCKY COLLEGE OF AGRICULTURE
LEXINGTON, Ky. — The University of Kentucky College of Agriculture's Department of Animal and Food Sciences annually recognizes individuals who have made outstanding contributions to the department and to Kentucky animal agriculture. This year, the department awarded the Distinguished Alumnus Award to Tom Hammond and inducted Al Purnell Sr. into its Hall of Fame.
Hammond is probably most well known as an American television sportscaster. He is the main host of NBC's thoroughbred racing coverage and has covered many events including all of the Triple Crown races and the Breeders' Cup. He has been a key commentator for events at 10 Olympic Games, including the 2012 games in London.
What many might not know is that Hammond is a graduate of the UK College of Agriculture, receiving a bachelor's degree in animal science in 1967. He specialized in equine genetics. He's used his expertise in both agriculture and in communications and has stayed involved with the college, often attending the UK Gamma Sigma Delta awards banquet on behalf of his grandfather and former college dean, Thomas Poe Cooper.
"I take my association with the department of animal sciences, the College of Agriculture, and the University of Kentucky very seriously," Hammond said upon receiving the award. "It meant a lot to me, and obviously that education I got didn't prepare me to just to go into that field, which I thought I would go into, but [also] into broadcasting. It prepared me for most anything that would come my way, as it turns out."
Al Purnell Sr. is the son of Fred B. and Clara Purnell, who founded Purnell's "Old Folks" Sausage Company. He grew up in the family business and has supported the UK College of Agriculture in many ways for several decades, including providing tours of the sausage-making facility to more than 200 undergraduate students each year. He often talks to students about the importance of agriculture to the national food supply and the economy.
Purnell also provides internships for students and donates research materials to UK and the University of Louisville.
"I would just like to thank you all and the whole university for what it does for the state of Kentucky," Purnell said upon his induction. "Purnell Sausage is glad to be associated with it and it is an opportunity to do things that are good for Kentucky and the United States. Kentucky has been good to 'Old Folks' Sausage. It has given us a chance, and we appreciate that."
Induction into the Hall of Fame is the highest honor given by the Department of Animal and Food Sciences.
Al Purnell Sr. met Agriculture Commissioner James Comer when Commissioner Comer toured the F.B. Purnell Sausage Co. plant in Simpsonville earlier this year. (Photo by Chris Aldridge)