Commissioner's Comments
Kentucky and the KDA made great strides in 2012
Theres a great quote that I think describes making a living as a farmer: If youre in a bad situation, dont worry it will change. If youre in a good situation, dont worry it will change.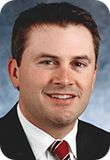 As I write this piece, I have been in office almost a year. In that year, we have had some really good days at the Kentucky Department of Agriculture. But I know we cannot take them for granted. That is why you will see one constant at the KDA: work ethic. I made and kept a promise that I would visit all of Kentuckys 120 counties in 2012. I wanted to show the people of Kentucky that the KDA is hard at work, listening to their concerns and delivering on bold and innovative ideas.
I now feel qualified to say this: The state of agriculture in Kentucky is strong.
During one of the driest summers in the history of our state, I saw the resilience of our grain and cattle producers in Western Kentucky. When I took my own cattle to a reclaimed strip mine that now operates as a successful cattle feed lot, I saw the entrepreneurial spirit of Eastern Kentucky. And everywhere in between, I talked to farmers and business owners who want new opportunities to grow jobs and develop our economy. I am proud to say that our new leadership team at the KDA is helping to make that happen.
The KDA boasts the only truly partisan-blind management team in state government. Our staff comes from all different backgrounds. We have farmers, lawyers and Ph.Ds hailing from Paducah to Pikeville. The only requirements for employment at the KDA are talent, experience and hard work. Thanks to this diverse and talented team, I can report that the KDA made unbelievable progress in 2012.
When I first took office, the KDA's fuel lab was costing taxpayers close to $900,000 a year. This year, we cut that number by almost $400,000. For the first time in history, our office inspected every fuel pump in the state in less than one year. By utilizing only essential staff and cutting excess, we saved more than $15,000 in our Kentucky State Fair operations. The KDA is doing more with less every day, which you can see at our new transparency link at www.kyagr.com.
Kentucky Proud continues to be the most successful marketing program in the history of the Commonwealth. This year, we launched the first-ever issue of Kentucky Proud magazine, which used NO taxpayer dollars. We're working on a Homegrown by Heroes project, which will spotlight Kentucky farmers who are veterans of our armed forces. And our Kentucky Proud farm tag initiative is helping to support 4-H and FFA.
We also set some big-picture goals. We are finally establishing a true partnership between our urban centers and our rural producers. We are constantly working on our relationships in the General Assembly to protect the sales tax exemption for our farmers and limit taxes on property. Alongside Senator Rand Paul, we are leading the charge on the industrial hemp initiative, which will create jobs and provide new opportunities for Kentucky farmers.
I know we are going to have good days and bad days in our farming community. But together, we've had an exceptional year. And I know that, if we continue to work in a non-partisan way to move Kentucky agriculture forward, the sky is the limit for 2013.