Kentucky Ag News
Vol. 7 No. 11  • May 30, 2014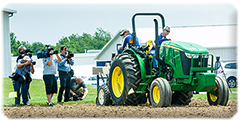 The University of Kentucky launched its industrial hemp pilot program May 27 when hemp seeds were planted at Spindletop Farm, marking another milestone in the drive to restore industrial hemp production to the Commonwealth.
Kentucky farmers took in a record $6 billion in cash receipts in 2013, and yet many of you are finding that it's still a challenge to make ends meet. How is that possible? The 2012 U.S. Census of Agriculture has some answers.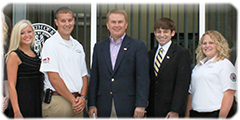 Agriculture Commissioner James Comer welcomed 12 interns to the Kentucky Department of Agriculture on May 29.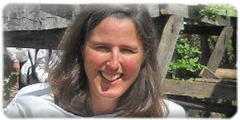 A nationally known beekeeping authority and author will join the Kentucky Department of Agriculture as Kentucky's new state apiarist, Agriculture Commissioner James Comer announced today.  Tammy Horn of Lexington will assume the post June 1.
Kentucky cattle producers are finally getting some relief from the especially long, cold and wet winter.
Heading into the summer, KFB's state and county offices have provided 299 scholarship grants totaling $402,600 to students across the state.
Coming up

Kentucky Farm Bureau Roadside Market Summer Tour
Kentucky Farm Fact
Kentucky farm cash receipts (excluding equine) increased 26.2 percent from 2007 to 2012, according to the 2012 Census of Agriculture.