Kentucky Ag News
Vol. 7 No. 5  • March 4, 2014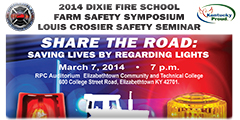 Safety on the road is everyone's job, especially when one of the vehicles involved is a farm implement. That's the message of the 21st annual Farm Safety Symposium and Louis Crosier Lecture March 7 at the Elizabethtown Community and Technical College, 600 College Street Road, Elizabethtown.
If you have a farm license plate on your vehicle, you can help advance agricultural education in Kentucky and promote Kentucky farm products. All you have to do is give a voluntary $10 donation when you buy or renew your farm plates.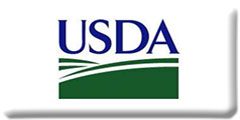 Agriculture Secretary Tom Vilsack recently announced 76 grants totaling more than $35 million to support research, teaching and Extension activities at 1890 Historically Black Land-Grant Colleges and Universities through the U.S. Department of Agriculture's National Institute of Food and Agriculture (NIFA).
As a way to help military families bond and reconnect when they return from a deployment, the University of Kentucky Cooperative Extension Service is hosting two free military family camps this summer.

With Kentucky still in the grip of winter, many farmer/vendors are already exploring educational opportunities so that they can get certified to offer free samples. Senior Extension associate Miranda Hileman talked about the benefits of sampling on a recent podcast of Kentucky Farm Bureau's "Across Kentucky." (audio)