Kentucky Ag News
Vol. 8 No. 16 • August 31, 2015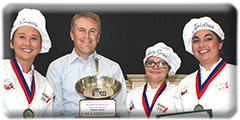 The "Culinary Cats" of Anderson County High School clawed their way to the 2015 Kentucky Proud Farm to School Junior Chef championship Friday at the Kentucky Exposition Center.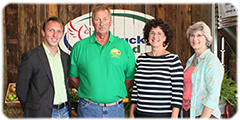 Kentuckians chose producers from Danville, Lawrenceburg, and Lexington as the 2015 Local Food Heroes, Agriculture Commissioner James Comer and Louisville Mayor Greg Fischer announced today.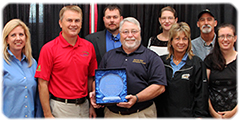 Hemp Industries Association (HIA), a non-profit trade association consisting of hundreds of hemp businesses and farmers, will host its annual conference Sept. 27-29 at the Hilton Hotel in downtown Lexington.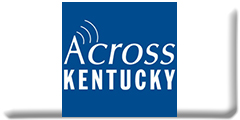 Kristen Branscum, executive director of the KDA's marketing office, tells how Kentucky-based distributors are helping Kentucky food producers get their products on retail shelves. (audio)
On a stage set to celebrate the Commonwealth's deep agricultural roots, Kentucky Farm Bureau's (KFB) 52nd annual Country Ham Breakfast & Auction concluded Aug. 27 with a show-stealing $400,000 bid for the Kentucky State Fair's grand champion ham.
Scientists at the University of Kentucky College of Agriculture, Food and Environment's Veterinary Diagnostic Lab are hailing a new technology as a game changer for Kentucky animal health.
Kentucky Farm Fact
More than 152 students from 38 teams participated in the Farm to School Junior Chef competition this year.