Kentucky Ag News
Vol. 10 No. 22 • November 15, 2017
Agriculture Commissioner Ryan Quarles praised the resumption of live equine exports to China at a signing ceremony in Beijing on Nov. 6.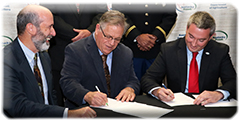 Agriculture Commissioner Ryan Quarles announced that the KDA has entered into a Memorandum of Understanding with the Farmer Veteran Coalition to extend their partnership through 2021.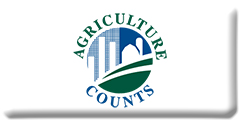 For the first time, the Census of Agriculture includes a question that asks whether the respondent has ever served on active duty in the U.S. Armed Forces, Reserves, or National Guard.
Agriculture Commissioner Ryan Quarles has proclaimed November 13-17 as "Hunters for the Hungry Week" in honor of Kentucky Hunters for the Hungry (KHFH), a charitable volunteer-run organization.
The Kentucky Department of Agriculture and the Kentucky Vegetable Growers Association put fruit and vegetable growers in a room with buyers on Nov. 8 at the Fayette County Extension office.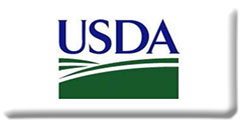 Kentucky Agriculture Commissioner Ryan Quarles released statements praising the appointments of Brian Lacefield of Hopkinsville as state director of the Farm Service Agency in Kentucky and Hilda Legg
Kentucky agricultural exports remained relatively stable in 2016 at $2.1 billion, nearly 40 percent of the state's ag cash receipts, the U.S. Department of Agriculture reported in October.
Corn production in Kentucky is forecast at 219 million bushels, and soybean production is forecast at 101 million bushels.
The deadline for the 2018 Roadside Farm Market Program is December 31, 2017.
For the second year, the Harrison County Agriculture Program and FFA Chapter hosted a Meal Packing Event on Nov. 11.
Darren Luttrell of Ohio County, Richard Preston of Hardin County, and Lisa Robards of Bullitt County are the three finalists.