Kentucky Ag News
Vol. 10 No. 23 • November 30, 2017
Agriculture Commissioner Ryan Quarles reports on a game-changing trade agreement with China, the KDA's internship program, and developments in the Homegrown By Heroes program. (video)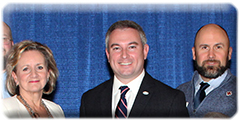 Agriculture Commissioner Ryan Quarles presented over a half-million dollars to 10 nonprofits receiving Walmart Foundation State Giving Grants on Nov. 20 in Frankfort.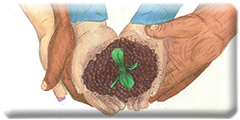 Agriculture Commissioner Ryan Quarles invites Kentucky students to show in words and pictures how food gets "From Farm Gate to Dinner Plate" in the KDA's annual Poster and Essay Contest.
Agriculture Commissioner Ryan Quarles has announced the 2017 Kentucky Proud Promotional Grant Program has allocated all available funds for this calendar year.
Agricultural economists from the University of Kentucky College of Agriculture, Food and Environment are projecting 2017 farm cash receipts to be $5.6 billion, which is a 3.5 percent increase from 2016.
The U.S. Department of Agriculture's (USDA) National Agricultural Statistics Service (NASS) began mailing the 2017 Census of Agriculture to the nation's producers this week, including the more than 76,000 farmers in Kentucky.
Some familiar names and a first-time winner rounded out the list of Commissioner's Cup-winning wineries at the 2017 Kentucky Commonwealth Commercial Wine Competition.
The University of Kentucky was awarded a $250,000 grant from USDA's National Institute of Food and Agriculture for case-based distance learning for food animal veterinarians.
Kentucky Farm Fact
Kentucky agricultural cash receipts are projected to total $5.6 billion in 2017, a 3.5 percent increase from 2016, economists from the University of Kentucky College of Agriculture, Food and Environment reported on Nov. 30. #KyAg365