Vol. 5 No. 7  •  May 23, 2012
Albany stockyards will boost southern Ky.
cattle industry and the local economy
Agriculture Commissioner James Comer joined other state and local dignitaries for the grand opening of the Blue Grass Stockyards of Albany on May 23. "This facility will provide a vital service to cattle producers in Clinton County and the entire region," Commissioner Comer said. "It will connect area producers with big order buyers to the benefit of both. It also will create new jobs and bring farmers and their families in for sale days, which will give the community an economic boost." ... more

 

Agriculture Commissioner James Comer
The beef shows are underway, the youth livestock camp is behind us, and most of Kentucky's county fairs are right around the corner. This is a special time of year when hundreds of Kentucky boys and girls test their mettle in livestock shows all over the state. ... more
Commissioner Comer visits schools to promote healthy food for students
Agriculture Commissioner James Comer visited six Kentucky schools May 21-22 to encourage child nutrition and healthier school lunches. Commissioner Comer says fresh produce from local farms should be on the menu in Kentucky's schools. ... more
A Kentucky Proud profile:
Purnell's has succeeded with popular products, an iconic slogan, and a positive company culture
Agriculture Commissioner James Comer called the F.B. Purnell Sausage Co. "a real success story" after touring the Kentucky Proud company's plant May 2. "Kentucky and the Kentucky Proud program are sure lucky to have them," he said. ... more
Third-generation Kentucky Proud business began with a Tennessee railroad worker and his family sausage recipe
Commissioner Comer honors Lexington winery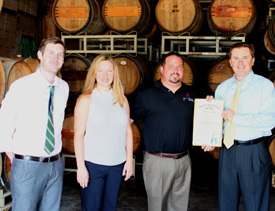 Agriculture Commissioner James Comer traveled to Jean Farris Winery and Bistro near Lexington recently to tour the facility and present owners Jeanie and Ben O'Daniel with an Honorary Commissioner of Agriculture award. Jean Farris Winery and Bistro earned a double gold medal for its 2007 Cabernet Sauvignon at the San Francisco Chronicle Wine Competition in January. See more pictures from Commissioner Comer's visit on the Kentucky Department of Agriculture's page on Facebook.
Kentucky county fairs draw crowds, including out-of-state tourists
Kentucky's county fair season is near, and on a recent episode of Kentucky Farm Bureau's "Across Kentucky," host Mike Feldhaus spoke to Chris Caudill of the Kentucky Department of Agriculture's Division of Show and Fair Promotion. ... more (audio)
Kentucky Farm Bureau is now seeking applications for Farmer of the Year
All applications must be postmarked by July 2. ... more
KFB seeks nomination for Excellence in Ag Literacy Award
The award, bestowed annually by KFB during its annual meeting, was established to recognize and reward teachers who excel in their efforts to incorporate agricultural concepts throughout their core academic studies. ... more
Early, warm, dry spring impacts Kentucky horticulture crops
Many Kentuckians appreciated early spring conditions in March and April; the state's horticulture crops, however, not so much. ... more
Kentucky Farm Bureau offers four free professional development workshops for educators
The day-long workshops are designed to address Kentucky's core educational competencies while showcasing a variety of state and national agricultural curricula. ... more
Former high school teacher takes lessons to Afghanistan as part of Kentucky's Agribusiness Development Team 4
Ken Parsons is a retired agriculture teacher of nearly 28 years at Garrad County High School in Lancaster. He is now deployed to southern Afghanistan's Kandahar Province with ADT 4 after officially retiring in January 2012. ... more
Agriculture Secretary Vilsack celebrates USDA's 150 years of service
Agriculture Secretary Tom Vilsack marked the 150th anniversary of the U.S. Department of Agriculture and highlighted the positive impact that USDA has on the life of Americans each day. ... more
Coming up
Alltech International Symposium
Alpaca Owners and Breeders Association national conference
UK Equine Farm and Facilities Expo
Kentucky Women in Agriculture summer tour
Kentucky Farm Bureau professional development workshops for educators
UK Western Kentucky Equine Field Day
Kentucky 4-H Teen Council meeting
Food Works East End Focus on Food
Kentucky Junior Livestock Expo – East
All American Angus Breeders Futurity
Kentucky Junior Livestock Expo – Western Rivers
Southeastern Equestrian Trails Conference
Kentucky Farm Fact
Cattle accounted for more than $615 million in cash receipts to Kentucky farmers in 2010.