Kentucky Ag News
Vol. 10 No. 10 • May 16, 2017
The new Breathitt Veterinary Center uses state-of-the-art facilities and equipment to provide vital services for Kentucky's livestock and poultry producers, Agriculture Commissioner Ryan Quarles said May 11.
May is a month of celebrations. What better way to honor these special events than by celebrating National Beef Month at the same time?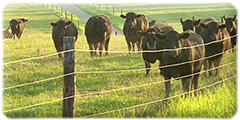 A study by the University of Kentucky shows that agriculture and the businesses that support it are responsible for one out of three jobs and $565 million in annual revenue in Woodford County.
Kentucky Farm Fact
Kentucky is the leading beef cattle state east of the Mississippi River with more than 1 million beef cows as of Jan. 1. Celebrate Kentucky's beef cattle industry during Beef Month in May. #KyAg365