Kentucky State Apiarist
The Kentucky State Apiarist identifies and eradicates infectious disease in honeybee colonies. In addition, the State Apiarist helps to educate the non-beekeeping public about the importance of honeybees, and offers best advice practice to the beekeeping community. Hive inspections are available with an appointment, and health certificates are provided for the transport of bees out of state. The State Apiarist is also available to speak at beekeeping meetings and various other functions.
KY Beekeepers of the Year, past and present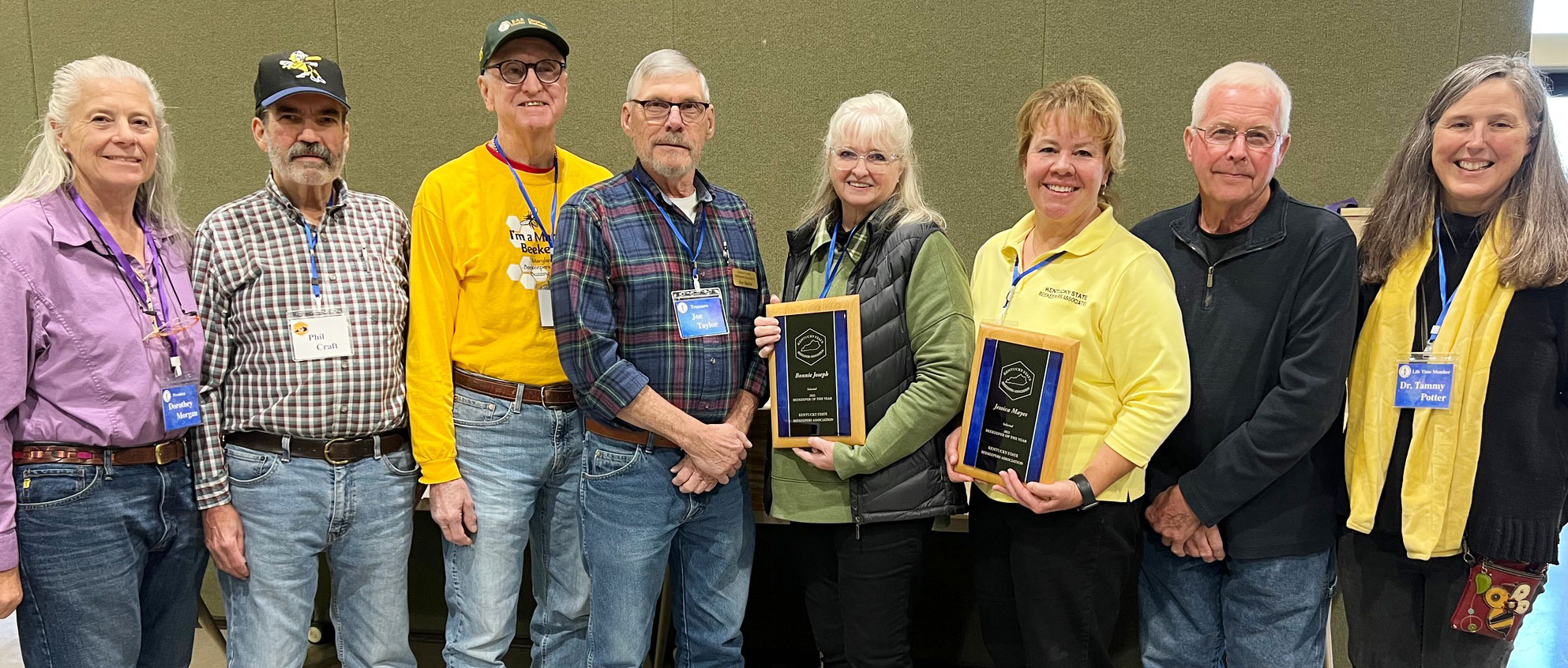 From left to right, Dorothey Morgan, Phil Craft, John Benham, Joe Taylor, Jessica Mayes, Bonnie Joseph, Larry Young and Tammy Horn Potter.
---
Grant opportunities available for Kentucky farmers, restaurants, research institutions
Several grant funding opportunities are open at the Kentucky Department of Agriculture (KDA), Agriculture Commissioner Dr. Ryan Quarles has announced. For more information click here.
---
Pollinator Protection mapping program
The Pollinator Protection mapping program is now available to beekeepers and pesticide applicators. If you would like to use this program to register your apiaries and/or pesticide spraying applications, please use Chrome, not Internet Explorer. The link is provided on the sidebar. You must register as a user first, then register your apiaries or applications. A video is provided to help you with this process.
---
Honey Label Review
Beekeepers should send all labels for review in a pdf format for generating print-outs. JPEG files are not recommended because these files are not as printer-friendly with the office equipment for printing out labels. Contact information is listed under the Honey Label Review on the right side of the page.
---
Asian Giant Hornet Information
Asian Giant Hornets are not in Kentucky, but the Kentucky State Apiarist has set traps to monitor for the appearance of the Asian Giant Hornets.
New Pest Response Guidelines
Pest Alert: Asian Giant Hornet
---
Standard Operating Procedures for Reporting a Pesticide Kill to Division of Environmental Services
If you suspect a hive has been impacted by pesticide applications, please adhere to the following standard operating procedures that KY Dept. of AGR maintains when collecting samples:
First, after beginning a routine inspection, if you suspect that a hive has been impacted by chemicals, go no further and put the hive back together. Leave the area alone and immediately contact KY Dept. of AGR inspectors to arrange a meeting at the following number 1.502.573.0282.
Do not take samples. The KY Dept. of AGR inspectors cannot accept samples of bees collected prior to their investigation.
The investigator will take a statement from the beekeeper about the possible hive-contamination event. It would assist in the process if the beekeeper has supporting evidence such as photographs of the impacted hive before the chemical spray, video footage, pictures of actual spraying, etc. These items are not mandatory, but highly recommended.
As part of preparing a statement, the beekeeper should have the contact information of their neighbors and suspected sources of contamination, the types of plants in bloom in neighboring fields, where potential water sources may be, date of alleged chemical sprays, as well as any information that can help the inspector assess the situation. Being able to brief the KY Dept. of AGR inspector with this information expedites the process of recording a statement.
Since inspectors may not be beekeepers, beekeepers should have an extra jacket, a smoker, and be willing to collect samples if the inspectors are either allergic or apprehensive about working a beehive.
---
Hive and Apiary Inspections
The State Apiarist's Office provides free hive and apiary inspections for Kentucky beekeepers. The State Apiarist will inspect apiaries and hives for the presence of honeybee diseases and pests. Specimens for laboratory examination will be collected if needed. After the inspection the beekeeper will be provided a written report listing any diseases, pests or other problems found and a listing of remedies for correcting these problems. (See The Importance of Late Summer/Early Fall Inspections).
General Policy for Apiary and Hive Inspections:
Beekeeper must be present during requested inspections.
Beekeeper will open hives and remove frames for inspections.
Attempt will be made to conduct inspections as soon as possible after request but inspection dates and times subject to State Apiarist's schedule.
To schedule an apiary and hive inspection, or for more information about this service contact our office.
---
Grant Opportunities
Start here to find grants that will help you get your beekeeping operation off the ground or take it to the next level:
Kentucky Agricultural Development Fund investment area guidelines
Kentucky Proud Programs
---
Bee-friendly Wildflowers
Here's a sample plan to show you how affordable it is to raise a bee-friendly wildflower garden.
---
Kentucky Beekeeping Association Listing and Contacts
Kentucky's beekeeping associations are a great source of beekeeping information and assistance for Kentucky beekeepers. Beekeeping associations hold regularly scheduled meetings and other activities. Contact the individual beekeeping associations for more information (see individual listings). Please check this page often for more information as we will update regularly.
---
BOARD OF DIRECTORS
Additional Links
FDA Honey Label Guidance
Additional Articles