Hazeldell Farm..,
where GOOD things grow!
Special News
Mixed grass hay for sale: bales & rolls
Our Products
Cattle & hay
About Us
Welcome..,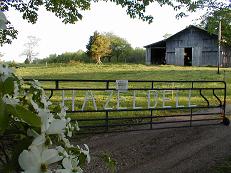 to Hazeldell Farm.
This is a small family farm in Pulaski Co., the foothills of the Kentucky Appalachians.
Guys'' "Day Out".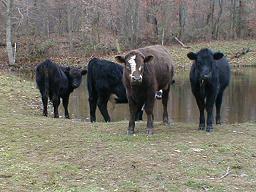 Our main crop are the calves we breed naturally from pasture grazed cows who live in a herd with their bull. Since the bull stays in the herd, our calves come at different times & we often have calves in otherwise out-of-season times. They are naturally milk-raised/grass grazed with their own mothers, but can be grain-finished if the buyer so desires. Anyone interested should call to enquire if there are any "ready" to sell. We also sometimes have a surplus of hay, over what our own cattle may need, for sale.
Just in time.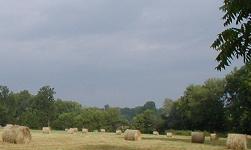 Storm coming over rolled hayfield
Seasonally; we sell hay & naturally fed calves.
Directions
Call: (mornings) 606-379-6576
Hours of Operation
Mornings, Evenings & Saturdays
Here is where you can find our products:
on location
Come see us!
Hazeldell Farm
1355 Alexander Road
Somerset, KY 42503
Phone: (606) 379-6576
Email: hanginout@bigfoot.com