What is PACE?
The Purchase of Agricultural Conservation Easement Corporation (PACE) was established by the Kentucky General Assembly in 1994. The General Assembly authorized the Commonwealth of Kentucky to protect valuable farmland. The loss of valuable Farmland is at an alarming rate in the nation including in the beautiful Commonwealth. Farmland in the PACE Program is protected by an agricultural conservation easement that protects the land in perpetuity. The PACE Program is an affiliate of Kentucky Department of Agriculture but is governed by a Board of Directors. The Board of Directors consist of one member from the six congressional districts (appointed by Governor), one member from Kentucky Farm Bureau Federation (appointed by Governor), Commissioner of Agriculture, Secretary of Energy and Environment Cabinet, Dean, University of Kentucky College of Agriculture, Food, and Environment, Chair of Soil and Water Conservation Commission. The four private respectively may have a proxy represent them on their behalf. To find out who serves on the PACE Board of Directors, click the link below.
PACE's Conservation Work Since 1994

31,500+ Acres protected in perpetuity
200+ Farms
175+ Landowners
Counties with the Most Protection

1. Logan County, 39 Easements, 7,200+ acres
2. Mercer County, 25 Easements, 4,300+ acres
3. Christian County, 15 Easements, 1,560+ acres
What is an Agricultural Conservation Easement?
An Agricultural Conservation Easement is a tool that is voluntary created to forever protect farmland from development. Landowners who choose to place an easement on their property have a sense of fulfillment knowing that their property will forever be protected no matter who the owners are.
Advantages of an Agricultural Conservation Easement

Preservation of agricultural value
Enhances the contribution that agriculture makes to the economy.
Landowner retains the right of ownership of the land, including the right to sell or transfer the title of the property.
Agricultural resources protected in perpetuity, no matter who the owner is.
Interested in the PACE Program?

For now, the PACE Program is only accepting donated easements into the program. Before submitting a PACE Donation Application you should:

1. Review the "PACE Welcome Packet"
2. Speak with your tax advisor and legal counsel on the benefits of donating an agricultural conservation easement.
3. If you have any questions, please contact Ben Benton, PACE Program Coordinator at 502-782-4131.

Applicants wishing to donate should expect an out of pocket expense for the following items:

1. Appraisal
2. Title Opinion
3. Survey

Please fill out the application and mail the application along with the required documents to:
KDA/PACE
111 Corporate Drive
Frankfort, KY 40601
A PACE representative will then be in contact with you to discuss the process for donating an agricultural conservation easement. Please be mindful that the process to complete a donation takes 9 to 18 months.
PACE Partnerships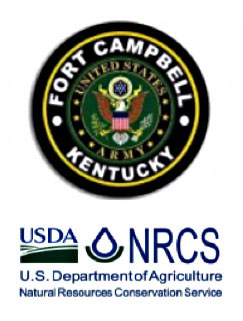 The Department of Defense and the United States Department of Agriculture (USDA) Natural Resource Conservation Service (NRCS) play viable roles with protecting valuable farmland throughout the Commonwealth of Kentucky.
The Department of Defense's Army Compatible Use Buffer (ACUB), conserves land outside the installation fence line so that soldiers can be trained and ready to be deployed. PACE's partnership with the Department of Defense was started to conserve farmland around Fort Campbell located in Christian County. Fort Campbell's ACUB project has a mission of protecting the airfields and training ranges with its 105,058 acre base. Over the past ten years, this partnership has allowed for over 1,500 acres of farmland to be protected outside of Fort Campbell's boundary.
PACE and NRCS have worked together for several years on securing matching dollar amounts through the USDA Farm and Ranch Lands Protection Program (FRPP). FRPP provided matching funds to purchase developmental rights. It was repealed by the 2014 Farm Bill and is now known as the Agricultural Conservation Easement Program (ACEP). With this partnership over 14 million dollars have been invested in securing easements on valuable farmland that would have been lost to development.
Additional Links