Forage Testing Program – Recent Program Changes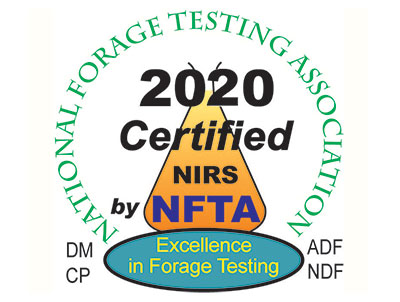 Testing your hay/haylages
The Kentucky Department of Agriculture (KDA) continues to offer a forage testing service, which provides nutritional value information. This service is eligible for Kentucky producers only. If you grow hay in Kentucky or buy hay and live in Kentucky, you qualify for this service. We do not test corn silage.
How we are changing and how it affects you:
As we head into the next fiscal year, the KDA wanted to notify you of changes coming to the Forage Testing Program. Effective June 30, 2018, KDA will no longer collect hay and forage samples directly from the farm. KDA will still offer the same $10 per sample testing service, but due to financial constraints is unable to allocate staff to collect on-farm samples.
What you need to do
We are asking producers to begin arranging now to prepare for this program change. KDA will now rely on hay producers with assistance from County Extension Agents to pull samples and ship them to KDA for analysis. For producers considering purchasing their own hay probe, try searching online or contact your county extension agent. A list of recommended models is available at www.foragetesting.org.
KDA has collaborated with the University of Kentucky Cooperative Extension Service to continue offering forage testing to Kentucky hay producers.
Under the new program operations:
KDA will continue marketing and outreach for Kentucky farmers;
KDA will continue offering low-cost forage testing at $10 per sample at the Frankfort lab;
Hay producers will now be required to ship samples to KDA for testing; and
UK Extension agents may assist in collecting and shipping samples to KDA for testing.
What is an analysis report and what do I do with it?
What do all the abbreviations mean? You and your extension agent will receive an analysis report by email from KDA. Mailed paper analysis reports can be requested. Your extension agent can assist you with your livestock ration balance. "Interpreting Forage Quality Reports" and "Understanding Forage Quality" are great reference material; you can find them at www.kyagr.com/marketing/forage in "Hay Testing Terms" or at www.uky.edu/ag/forage in "Publications".
How can testing help me, what are the benefits?
Tested forages can mean higher profit, whether feeding cattle, horses, goats, sheep or other livestock. Knowing the nutritional value will help you minimize your cost and maximize your production.
Keeping a forage journal helps in comparing forage quality year-to-year This information can be used to evaluate and improve forage management practices and determine least-cost measures.
The analysis report, assists producers in balancing feed rations for their livestock. Each livestock species take a different energy level at different stages of their lives. A ration balance will help maintain a healthy diet.
Forage testing helps determine fair market value and establish an equitable price for forage sales.
Buying or Selling Hay: The Forage Testing Program maintains a list of Kentucky hay producers that have their hay tested through KDA. The service is offered throughout the state and the information may be viewed on this KDA "Forage Sales Directory/Tested Hay" webpage.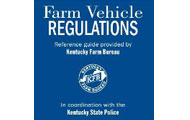 How much does it cost?
KDA will continue to charge a $10 fee per lot (same field, same cutting) for the service. The producer receives an analysis report of the forage's nutritional value and an "Interpreting Forage Quality Report" guide. The KDA Forage Testing Program follows standards outlined by the National Forage Testing Association (NFTA). Your local Extension Agent can assist you with your winter feed ration. Livestock farmers who need hay can find it right here in Kentucky. Listings can be found on this page "Forage Sales Directory/Tested Hay".
Sampling your Hay - How To Take A Good Hay Sample
To ensure that samples are properly collected, KDA recommends producers and County Extension Agents complete a free, one-hour course provided by the NFTA. This training can be accessed online at foragetesting.org, by clicking on the "Certified Sampler" tab.
Listing your hay for sale
If a producer has Kentucky grown hay, tested by KDA and would like to sell it, KDA will list it at no charge on the "Forage Sales Directory/Tested Hay" webpage. A producer or extension agent will make a visual evaluation of the forage lot using the "Forage Sample Analysis Request Form" located under "Forage Sample Request Form" (change name on web page) This information will be listed on the "Forage Sales Directory/Tested Hay" page.
Listings on the "Forage Sales Directory/Tested Hay" page are designed to support Kentucky consumers and producers. The analysis can be sorted by any combination of county, relative feed value (RFV), bale size and type of hay. Each listing describes a lot's type, cutting date, cutting number, bale size and weight, color, odor, and other characteristics.
What Form do you use?
Please print out the "Forage Sample Analysis Request Form" and attach it to each sample submitted for testing. Please make sure you send at least a quart size baggie or more to make an adequate amount of forage when submitting your sample.
When submitting sample:
We do not accept cash or invoice. Include a check or money order made out to "Kentucky State Treasury" per sample or per person.
Mail to:
Kentucky Department of Agriculture
Forage Testing Program
107 Corporate Drive
Frankfort KY 40601
Mobile Forage Testing Unit
Please contact The KDA Forage Program to make appointments for the Forage Testing Mobile Unit. KDA continues to offer on-site testing and educational programming for local hay contests, hay auctions, fairs, field days, conferences etc. The Mobile Forage Unit appointments are requested via email to: ag.web@ky.gov.
Comments or Questions:
KDA welcomes farmer input on the significance of this service. KDA will use this feedback to guide long-term policy decisions about testing costs and program operations. For feedback on KDA's Forage Testing Program please contact KDA's Plant Division Director at (502)-782-4120.
For questions about testing, please contact KDA Forage Program Manager at (502)-782-9210.
To be Listed on the Hay Hotline web page
If you have current market available hay ready to sell (not hay that may be available in the future, and would like to list your hay on the hay hotline, please fill out the "Hay Hotline List Form" located under "Forms & Documents". This site is open to all states.
Submit the Hay Hotline List Form via email to ag.web@ky.gov or fax to (502) 573-2543 to be put on our list. We will post sellers that contact our hotline as we collect information.
Caution for Hay Buyers and Sellers
KDA makes no guarantees or claims to the quality or appearance of hay and forages listed for sale. Samples submitted to KDA for testing are no longer collected by KDA staff, effective June 30, 2018. The KDA Forage Testing Program lab in Frankfort is certified for accuracy by the National Forage Testing Association.
Reputable hay buyers and sellers should have a contract that specifies:
The name, address, and phone number of the buyer and seller;
The type and quality of the hay;
Whether the price will be set by total weight or number of bales;
Logistics for shipping, including contact information and costs for pickup or delivery;
How money will be exchanged between the buyer and seller; and
What recourse the buyer has if the product is not as advertised (e.g., refund or replacement).
KDA makes no guarantees or claims to the quality, price, or nutritional value of hay and forages submitted through the hay hotline. Producers and brokers with hay for sale will be listed as we collect information through the hotline. KDA suggest that any hay purchased be tested for quality and protein.
Additional Links