Blue Moon Farm
Protect An Endangered Species- Support Family Farms!!
Special News
Find us on facebook- www.facebook.com/bluemoongarlic
Our Products
Sustainably grown varietal garlic, garlic braids, mixed baby squash, eggplant, peppers, beans, salad mixes, potted and fresh cut herbs, etc.
About Us
Once in a Blue Moon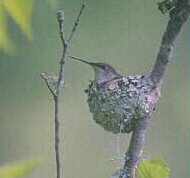 Blue Moon Farm, Summer 2002. We were delighted to happen upon a nesting hummingbird!
Blue Moon Farm is Leo Keene and Jean Pitches Keene-spouses, friends and sole labor on the farm. Our primary crop is gourmet quality sustainably grown garlic. Each year we create beautiful garlic braids as well as offering garlic by the bulb or bag. Our Garlic Scape Pesto is becoming locally famous!
Softneck Braids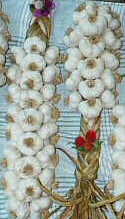 Please visit our website for mail-order information.
On Saturdays April thru October, Blue Moon Farm can be found at the Lexington Farmers' Market on Short St & Cheapside Park from 7AM-2PM where we offer our garlic by the bulb, bag, or braided as well as sustainably grown seasonal vegetables. Look for us in APRIL with the very first fresh spring (green) garlic!! Garlic scapes in May! It's a wonderful market with lots of special events, terrific produce and ready-to-eat foods!
www.bluemoongarlic.com Blue Moon Farm grows sustainably, using no petrochemical fertilizers, pesticides or herbicides. We never have, we never will. We have teamed up with other small KY producers to offer breads, beef, pork, local corn chips, and handmade soaps at Lex. Farmers' Market.
Directions
Blue Moon Farm is not open to the public.
Here is where you can find our products:
Lexington Farmers' Market,Short St.and Cheapside Park,Saturdays, 7-2; Southland Drive in front of Goodyear, Sundays 10-2
We also have a wholesale produce delivery service for Lexington restaurants, as well as wholesale local meats. What do you need? We can usually find it for you!
Blue Moon Farm
3584 Poosey Ridge Road
Richmond, KY 40475