Lewis County Farmers Market
Produced with PRIDE in Lewis County!
Special News
We're already open, but a Grand Opening celebration is set for 8 a.m. Saturday, July 15. Hope to see you there!
Our Products
Vegetables, fruit, herbs, bedding plants, local arts & crafts and more.
About Us
Marinell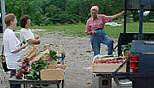 Marinell Ash is just one of the Lewis County farmers selling at the market
The Lewis County Farmers Market was created by the Lewis County Vegetable Producers Association to provide fresh, quality produce and other local products to area consumers.
Every item sold at the market is guaranteed to 'picked fresh from the farm' in Lewis County, VERY different from what you'll find in your local grocer's produce case!
Directions
On the AA Highway (KY Rt. 9) next to the BeeMart, south of Vanceburg.
Hours of Operation
Tuesday & Saturday from 8 a.m. until sold out.
Lewis County Farmers Market
Rt. 1 Box 277A
Tollesboro, KY 41189
Phone: (606) 798-2553
Phone2: (606) 798-5123
Fax: (606) 798-2553
Email: pfranke@kih.net