Horse Farm and Racetrack Workers Help Line
Solving today's problems for tomorrow's worker
Special News
Are there Backside Issues you want to address as a group? Are you able to help out a backside worker who does not have medical support? Contact us!
Our Products
Professionally trained counselors with a background experience in the horse industry are now on staff. We have an extensive knowledge of community social service agencies, legal service representives, drug and alcohol treatment facilities and services, support groups,vocational rehabilitation agencies, financial assistance centers, and housing resources.
About Us
Trackside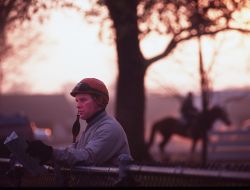 Exercise Rider on break watching workouts
Backside Connections Inc. is a non-profit organization whose mission is to improve the lives of horse farm and racetrack workers. A happy and sober workforce in the thoroughbred industry is an important mission for the 21st Century. Backside Connections, Inc. functions as an Employee Assistance Program, much like other successful businesses have today. Our services are geared towards those workers who cannot get their needs met with traditional racetrack programs.
Feels so good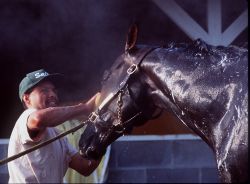 A hot bath is given after each workout by the groom and hotwalker
We provide on-site assistance for employer-employee problems, drug and alcohol problems, gambling addictions, family and marriage problems, injury recuperation and vocational guidance, and more. We specialize in issues with Hispanic and non-English speaking workers.
Keeping the house tidy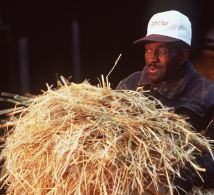 A grooms job is never done
We work with clients who have court, probation, or other legal problems. Interested in exploring benefits of having a drug free workplace policy? Give us a call!
Directions
Winchester Rd to Fortune Drive or in Nicholasville. Call for appointment.
Hours of Operation
9-9
Here is where you can find our products:
2331 Fortune Drive
Can Travel To Farms as Requested
On The Backside
Backside Connections, Inc.
2331 Fortune Drive Suite 205
Lexington, KY 40505