Cookland Farms
Our Products
Milk-based soap
About Us
Cookland Farms Soap Gift Basket
Cookland Farms Gift Basket is a bouquet of rose-shaped soaps in a beautifully wrapped basket
Cookland Farm is a family based operation. We raise horses, cows, sheep, Boer goats and make milk based soaps. Our four children each have responsibilities in caring for the animals and upkeep on the farm.
Cookland Farms Milk-Based Soap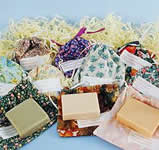 Cookland Farm is a family operation. All of our soap is handmade to make you feel clean and fresh
We make soap from fresh milk, goats milk when available. Glycerin is added to each batch as a natural emollient. The bars of soap are hand cut leading to individuality in size and shape. Once the bars are made they take 4-6 weeks to cure. We also make gift baskets that include a variety of soaps in one group.
We raise the sheep and goats for meat. Pigs are also available when they mature. At this time, we have several breeding Boer bucks ready for sale.
Directions
We are located 2 miles off Rte. 150 on Rte. 442 (Deep Creek Rd). It is 8 miles west of Perryville, or 11 miles east of Springfield.
Hours of Operation
By appointment
Here is where you can find our products:
On the farm
KentuckyVirtual.com
Cookland Farm
1966 Deep Creek Road
Perryville, KY 40468