Little Meadows Rabbitry
Special News
Did you know that rabbit meat is low in Cholesterol and is perfect for people on cardiac diets?
Our Products
NewZealand White Rabbits, Various sized pet and feeder rabbits, rabbit cages.
About Us
Rabbitry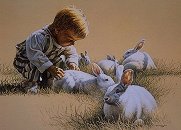 Little Meadows
We raise quality pedigreed rabbits for breeding stock and pets. We also raise rabbits for butcher and pet feeder purposes. Feeder rabbits range from pinkies to full grown. Pet and breeder rabbits are available from weanlings and up. Member of the American Rabbit Breeders Association. ARBA Registered Rabbitry #U177. We currently have New Zealand Whites, Californians, Black Dutch, San Juan, and French Angoras. For prices please email us or visit and follow the rabbit links. http://little_meadows.tripod.com/ We also have rabbit manure for your flower beds and gardens. For those who like to fish, like myself, we offer red wigglers to tempt the taste buds of your favorite fish.
We now offer farm fresh country eggs $1.00 per dozen. These eggs come from our flock of Rhode Island Reds and from our Barred Rocks. Hatching eggs are also available for $3.00/doz. For those of you who prefer white eggs, check back with us because our flock of leghorns will be laying soon.
New to the farm this year is garden fresh produce. We currently have our cabbage in the ground along with onions, beets, cauliflower and peas. We will also be growing sweet and field corn, green beans, tomatoes, bell and hot peppers, cucumbers, and much, much more. Email us or look for us at the Wolfe County Farmers Market.
Directions
From Dairy Queen in Campton. Turn Right on Washington Street. Drive 4.0 miles and turn Right (you will turn right immediately after crossing a bridge. Drive 9 tenths of a mile and you will come to a fork in the road. Take the right fork. Drive 7 tenths of a mile and turn left. It will be the first hollow on the left after taking the right fork. There will be an old Cedar tree next to the driveway. We live in the first house up the hollow. A white brick house on the left about 2 tenths of mile up the hollow.
Hours of Operation
From daylight until we fall asleep, Sunday through Sunday.
Here is where you can find our products:
On the farm
Wolfe County Farmers Market
Little Meadows Farm
190 Carson Lane
Campton, KY 41301
Phone: (606) 668-9265
Email: rabbits@mrtc.com