Sheltowee Farm Gourmet Mushrooms
Kentucky's Premier Gourmet Mushroom Farm
Special News
Look for us at Lexington's Wild Oats store at Lexington Green!
Our Products
100% USDA organic log-grown shiitake and several varieties of 100% USDA organic oyster mushrooms, including golden, grey dove, Italian, and white hu.
About Us
Picture Perfect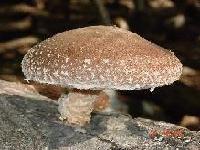 single shiitake mushroom on oak log
Sheltowee Farm is located in Bath County, Kentucky -- in the heart of the Daniel Boone National Forest. We began our farm in 2001 and started producing our mushrooms in the summer of 2002. And to answer our most asked question ... many people want to know about our name ... Sheltowee (pronounced she - tah - ee) is the Shawnee name for Daniel Boone and means 'Big Turtle.' With a little stretch of the imagination, our shiitake mushrooms look like turtles sitting on logs! Also, the Sheltowee Trace trail system runs very near our farm.
Golden Oysters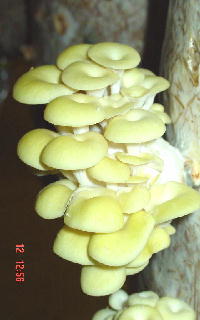 One of our favorites -- delicate golden oyster mushrooms
We are a small, family owned and operated farm specializing in producing the highest quality gourmet mushrooms available. We pride ourselves in delivering the best of the best. We tailor our delivery to meet the needs of our customers!
We offer year-round production on our USDA organic shiitake and oyster mushrooms. We also take advantage of what Mother Nature has to offer and at times have morels, chanterelles, hen of the woods, and chicken of the woods available. *Certified by Indiana Certified Organic 2004
Directions
We are located in Salt Lick, KY. Call us for directions at 859.219.3400 or 606.768.9465
Hours of Operation
M-F 8:30 - 4:30 .. by appointment only
Here is where you can find our products:
Fine Dining establishments in Louisville and Lexington
You can now find us at Lexington's Wild Oats store at Lexington Green ... you can call for individual orders too!
Starting in April, look for us at the Lexington Farmer's Market on Saturdays downtown at the Blue Moon Garlic booth
Sheltowee Farm
4793 Firebrook Blvd
Lexington, KY 40513
Phone: 1-859-219-3400
Phone2: (606) 768-9465
Fax: 1-859-219-3400
Email: info@sheltoweefarm.com
Website:
www.sheltoweefarm.com