Burrwal's Best
...straight from our fields to your table
Special News
Nothing says spring like fresh asparagus!
Our Products
"just picked" ASPARAGUS
About Us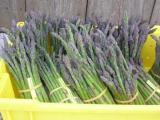 The morning''s harvest
Burrwal Farm is located in the heart of the Asparagus Bed of Mason County. The May's Lick, Kentucky farm has over three acres of fresh "just picked" asparagus.
The heart of our operation
This multi-generational family farm produces beef cattle, corn, hay, tobacco and asparagus.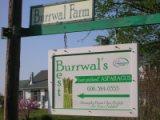 The farm entrance
Join us on the 3rd Saturday in May for the May's Lick Asparagus Festival. Farm tours and hayrides. Learn all you will ever need to know about growing asparagus. Joel will be grilling our asparagus at the festival. The kids will be working too.
Directions
Located just off US 68 in May's Lick. 12 miles from Maysville . Burrwal Farm is in downtown May's Lick (next to Palmer's Funeral Home). The street address is 5047 Main St.
Hours of Operation
We harvest every morning! The season goes from mid- April to 1st of June. Weather plays a huge factor in availability! Call first!
Here is where you can find our products:
Burrwal Farm
May's Lick
5047 Main Street
Burrwal's Best
Burrwal Farm 5047 Main St.
May's Lick, KY 41055