Longhorn M Quarter and Paint Horses
We specialize in Quarter and Paint barrel racing horses.
Our Products
quarter horses, race bred quarter horse mares, barrel horses, race bred foals
About Us
Saints Dream Jeta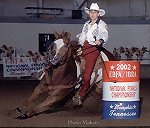 (AKA Cuckleburr) Making it to the Short Go at the IBRA Championships!
We are a small family operated farm in Boston Kentucky. We have barrel racing and race bred horses for sale. Whether you need speed, versatility, or both combined we try to have horses to suit your needs.
We strive to bred for speed and versatility. Our mares are proven either on the track or in the arena. Most of our mares are AA or AAA rated. They have good dispositions and ability which they pass on to their foals.
Directions
We are located 35 miles south of Louisville, KY. Take I-65 south out of Louisville, KY. Exit on the Boston/Lebanon Jct. exit. Turn left towards Boston. Go approx. 4 miles to the caution light. Turn right. Turn left on Old Nelsonville Rd. We are on the right.
Hours of Operation
24/7
Here is where you can find our products:
On the farm
Longhorn M Quarter and Paint Horses
515 Old Nelsonville Rd.
Boston, KY 40107