Watts Farm @ Burns-Larkins Farm, LLC
We believe the success of the Boer goat and meat goat industry is based on the successes of each individuals operation. We are dedicated to the success of our operation, as well as others.
Special News
Now offering pregnant recipient does carrying Fullblood Boer embryos, from some of our top animals.
Our Products
Registered Fullblood and Percentage Boer Goats, commercial meat goats, goat management equipment.
About Us
Bodacious Gordon and Batla J166G
Fullblood Doe and Buck in the field
We are one of the largest goat breeders in the region. The farm is owned by Burns-Larkins Farm, LLC- Laura L. Murrell and William 'Bill' Larkins and operated by Watts Farm-Bobby Watts and Michelle McAfee Watts. Having been in the Boer goat business since 1995 we are one of the oldest Boer goat breeders in the region. We offer quality, local bred stock at reasonable prices.
Champion Percentage Does 2002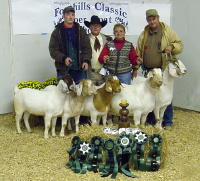 All of these does are owned by Watts Farm and earned these awards in this one show. Nov. 2002
We experienced many difficult times in the begining of our goat ventures. We are willing to offer assistance at many levels to anyone who is interested. We believe the success of the industry is dependant on the success of each producer.
2002 NAILE Grand Champion FB Doe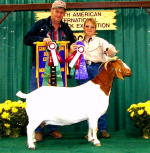 This Fullblood Doe was the Sr. Doe CH. and Overall Grand Ch. FB Doe at the 2002 NAILE
Along with goats we also offer a complete line of goat equipment. From pens and hay feeders to transport equipment and working chutes.
Directions
Hwy 127 to Harrodsburg, take Hwy 390 West 4 miles to Hopewell Rd. Go north on Hopewell 1/4 mile. Farm is located on the left.
Hours of Operation
Appointments appreciated, 8am-5pm Mon thu Sat. Other times when available.
Here is where you can find our products:
Most animals are direct marketed here from the farm.
Our line of goat equipment is in stock most of the time, but call ahead to verify availability. We occasionally attend farm shows or field days to demonstrate equipment.
Some animals are marketed through organized breeding stock sales, and graded meat goat sales.
Watts Farm @ Burns-Larkins Farm, LLC
332 Hopewell Rd
Harrodsburg, KY 40330
Phone: 1-859-734-0622
Phone2: 1-859-734-0959
Fax: 1-859-734-0622
Email: wattsfarm@searnet.com
Website:
www.wattsfarm.com