Southern Kentucky Regional Farmers' Market
We only sell what we produce!
Special News
We are still recruiting farmers. Come join us!
Our Products
Locally grown produce, fruit, bedding plants, perennials, herbs, cut flowers, baked goods and artisan products.
About Us
Sunflowers
We will have cut flowers.
We are a regional farmers' market. Any Kentucky farmer is welcome to join us, and all area consumers are encouraged to buy local!
Peppers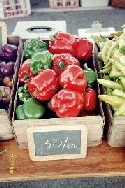 A nice selection of peppers
We allow no re-selling which gives farmers a fair market, and consumers confidence that they are buying only the freshest produce.
We open April 17th, 2004
Directions
Fairview Plaza, Bowling Green. At the corner of 31W Bypass and Cemetary Road.
Hours of Operation
Saturday 7-12:00 noon, Tuesday 3:00 PM to 7:00 PM
Southern Kentucky Regional Farmers' Market
3298 Fairview Church Rd
Smith Grove, KY 42171