Southern Kentucky Regional Farmers' Market
We only sell what we produce!
Special News
We need more farmers! Join us!! Our first market day is April 17th.
Our Products
Locally grown vegetables, fruits, horticultural products and artisan products
About Us
Peppers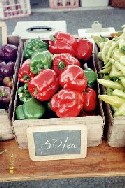 A beautiful selection of peppers at our market.
We are a farmers' market providing access to direct-to-consumer sales for farmers, horticulturalists and artisans. We welcome any Kentucky farmer, grower or artisan!
Sunflowers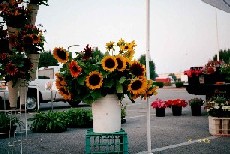 We have cut flowers too!
We are a producer only farmers' market, which levels the playing field for all farmers, and assures the consumer they are buying the freshest, locally grown produce.
We believe that it is important for our customers to be able to talk to a farmer about the produce they are buying, so no reselling is allowed at our market.
Directions
Fairview Plaza, Bowling Green - at the junction of 31W and Cemetary Road
Hours of Operation
Saturday 7-12:00 noon, Tuesday 3:00 PM to 7:00 PM
SKyRFM
Fariview Plaza
Bowling Green, KY 42101