Dogwood Farm Natural Pastured Beef
BEEF THAT'S BETTER FOR YOU!
Special News
Ground Beef Special................call 270-224-2993
Our Products
Offering frozen ground beef, custom finished Hereford beef steers whole, halves and split halves, forage finished for better health. Hereford seedstock selected to produce quality beef on pasture.
About Us
Hereford--best on grass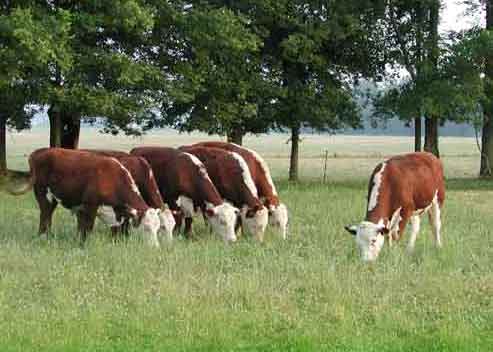 Contented grassfed Hereford steers grazing summer pasture
Our family owned and operated farm has been producing Hereford cattle for over forty years.
Dogwood Farm
Choose grassfed beef--naturally leaner and higher in Vitamin E, CLA, Omega 3s, & beta carotene.
All beef is from 100% Hereford stock conceived, born, bred and raised on the farm, finished and fed without any shortcuts, entirely on grass. No antibiotics, steroids, hormones or other additives. Pastures are pesticide free.
Selected to produce the best flavored, most tender beef possible on an all-forage diet without grain, our Hereford cows and calves graze fresh pasture throughout the growing season.
Directions
Our farm is located about 20 miles west of I-24 in Paducah, five miles north of U. S. 60 in LaCenter, 2 miles west of the Bandana community.
Hours of Operation
By appointment. Just call.
Here is where you can find our products:
Deliveries weekly to the Paducah area.
Monthly deliveries to other areas in the Jackson Purchase area in far western Kentucky as requested.
Or by arrangement at the farm
Dogwood Farm Natural Grassfed Beef
2492 S Kirkman Road
La, KY 42056
Phone: (270) 224-2993
Email: dogwood@brtc.net