Rockearth Pottery
Handmade pottery
Special News
Gallery sales in April and October.
Our Products
functional and decorative stoneware pottery
About Us
Like a pie bowl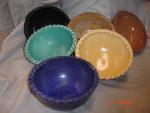 A nice size functional decorative bowl with top like a pie rim
I am located in western Kentucky on a little back road with the unlikely name of Shakerag.
lidded jar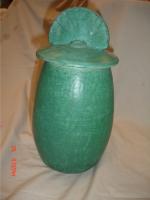 matte copper color jar
My name is Diana Hargrove.My work is one of a kind decorative jars and platters,as well as, daily functional ware you won't see anywhere else.
June will mark my Seventh year as a studio potter.
Directions
West Ky. Pwk. to Madisonville Exit.Pennyrile, about 15 miles to Hanson off Pennyrile PWk to 260,4mi.to left on 1069 about 300 ft.to Shakerag Rd.on right,1 mile on left 1830
Hours of Operation
M-F.1:-6 and Sat 10:-6,Sun1-6 &app.
Here is where you can find our products:
Gallery & Craft Festivals
Pennyrile Park
Rockearth Pottery
1830 Shakerag Road
Hanson, KY 42413
Phone: (270) 339-9769
Phone2: (270) 322-8733
Fax: (270) 322-8733
Email: dianahargrovepottery@rock.com