Fullers Hillside Nursery
Blueberries grown using organic methods
Special News
"Where being plump is a good thing"
Our Products
Blueberries and blueberry plants
About Us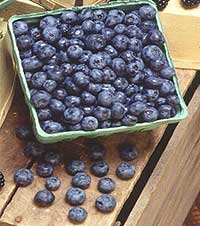 Fullers Hillside nursery has 500 Jersey Blueberry bushes in production.
Our blueberry are a variety that blossoms later than other varieties and we were not hit as hard by the April 2007 frost. We will still have a blueberry crop in June/July
Directions
Located on Highway 90 in Willow Shade.
Hours of Operation
call for availability
Here is where you can find our products:
Farmers Market in Glasgow and Edmonton
Fullers Hillside Nursery
9315 Summer Shade Road
Summer Shade, KY 42166
Phone: (270) 428-5975
Email: sukey2858@earthlink.net