Gotta B Kiddin Farm
Our Products
Commercial meat stock goats and bloodline Kikos.
About Us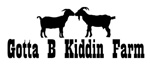 A start up in the goat industry, Gotta B Kiddin Farm strives to produce the highest quality goat both for commercial and breeding purposes.
Gotta B Kiddin Farm is the result of a city girl that always dreamed of the farm life. This dream was made reality in 2008 when Amy and Billy Lawrence fenced off a few acres on their 30 acre farm in Simpson County and purchased their first few goats. Since then, the Lawrences have quickly learned the business, added new pasture lands and added to their herd. Most recently, the farm, originally only in the commercial meat business, has added a second focus - breeding and raising the Kiko breed in hopes of becoming the come-to farm for Kikos in the region.
Directions
From I-65, KY exit 22, take Scottsville Road/231 S toward Scottsville. Turn right on Plano Road/622, and follow through the Plano community. Turn right on 240. Just before the I-65 overpass, turn left onto Woody Atkinson Road. Approximately 1 miles after the hairpin curve, turn left onto Fulton Kitchens Road. If you reach Drake''s Creek water ford, you have gone too far.
Hours of Operation
7 a.m. - 5 p.m. M-Sa
Gotta B Kiddin Farm

Woodburn, KY 42170
Phone: (270) 529-3633
Phone2: (270) 779-2333
Email: amy2716@hotmail.com