Kentucky Krafter's Gallery
"Heirlooms Begin Here"
Special News
See more heirloom quality pieces at: www.facebook.com/home.php#!/kykraftersgallery
Our Products
Custom hand crafted keepsake boxes of Kentucky hardwood, Hand crafted photo/art frames, Hand turned hardwood pens and pen/key ring sets
About Us
Our products are all heirloom quality pieces custom crafted primarily from Kentucky harvested hardwood. The handcrafted frames from Kentucky Krafter''s Gallery will give a venerable showing to your artwork without detracting from it. Without thin plastic veneers, without staples, and without compromise, there is no reason for any of these works not to be enjoyed through generations.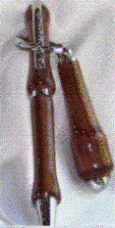 Before plastic and cardboard, people stored and carried their possessions in wooden boxes. Simple elegance and fundamental hand craftsmanship best describe these solid hardwood heirloom quality keepsakes. See how the simple box form has been elevated to a higher level of beauty and quality; to a level of art.

Pinewal™ boxes are the creation of Kentucky Krafter's Gallery. These affordably priced keepsake boxes are hand crafted from clear, knot free, select white pine with Kentucky harvested walnut accents. These future heirlooms contain no less craftsmanship and quality than the other artistic pieces offered by KKG. Pinewal™ boxes each measure about 7¾"L x 4½"W x 3½"D
Kentucky Krafter's Gallery

Campbellsville, KY 42718