Kentucky Proud Connection
Vol. 4 No. 8 • August 11, 2014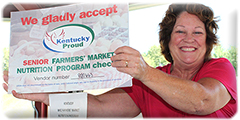 To help Kentuckians age 60 and over, many of whom live on fixed incomes, the 2014 Farm Bill appropriated a $297,388 USDA grant this year for the Kentucky Department of Agriculture (KDA) to distribute through the Senior Farmers' Market Nutrition Program.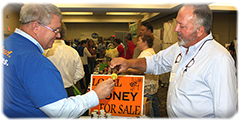 The Kentucky Department of Agriculture's marketing office played matchmaker again July 30, gathering Kentucky Proud vendors and Kroger store managers together in Louisville. Look for photos from the food show on the KDA's page on Facebook.
Agriculture Commissioner James Comer, Louisville Mayor Greg Fischer, and Kentucky State Fair Board President Clifford "Rip" Rippetoe will announce the results of voting for the 2014 Kentucky Local Food Heroes on Thursday, Aug. 14, at 2 p.m. EDT at the 2014 Kentucky State Fair.
To be considered, potential recipients must complete the application and return the requested material to KFB postmarked by Oct. 24, 2014.
Farmers and ranchers still have time to apply for low-interest 2014 loans available through FSA's direct farm ownership program. The deadline to submit applications is Sept. 30, 2014.
The television series "The Local Traveler" recently won two regional Emmy Awards - one for host Amy Hess and one for an episode about three Kentucky Proud businesses in Lexington that have formed a unique, sustainable partnership. Here's the Emmy-winning segment.
Kentucky Proud Opportunities