Kentucky Proud Connection
Vol. 3 No. 5 • May 13, 2013
Agriculture Commissioner James Comer returned to Kentucky confident that the federal government will act to legalize industrial hemp production in the near future.
Agriculture Commissioner James Comer says a Kentucky farm is the place to go for affordable, family-friendly fun close to home. (video)
"Kentucky is the leading beef cattle state east of the Mississippi River," Commissioner Comer said. "Nearly 40,000 Kentucky farmers raise beef cattle. Beef also is an important source of protein, vitamins, and minerals."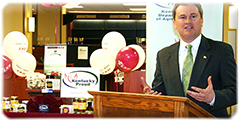 Using and selling Kentucky Proud products and making sustainable decisions is nothing new at many Kentucky colleges and universities. Now, Agriculture Commissioner James Comer has taken it to the next level with the launch of the Kentucky Proud Farm to Campus program.
"The Kentucky Department of Agriculture was proud to work on this bill that will reward our hard-working farm families for their efforts to help feed their struggling neighbors," Agriculture Commissioner James Comer said.
Kentucky's forestry sector added nearly $10 billion to Kentucky's economy in 2012, according to the 2012-2013 Kentucky Forestry Economic Impact Report.
Kentucky Proud Opportunities