2017 Ag Census Shows Growth in Kentucky Farm Sales
Value of Ag Products Sold Was Up 13.2 Percent From 2012 Count
This is the second in a series of five stories taking a closer look at Kentucky statistics from the 2017 Census of Agriculture.
LOUISVILLE (May 16, 2019) — Kentucky's agriculture industry continues to grow, adapt, and diversify, the 2017 Census of Agriculture revealed. The ag census was conducted by the U.S. Department of Agriculture, National Agricultural Statistics Service (NASS), and released in April.
"The ag census showed that most of Kentucky's agricultural sectors were strong enough to weather drought, lower commodity prices, and other challenges," Agriculture Commissioner Ryan Quarles said. "At the same time, it's important to realize that the 2017 Ag Census did not reflect the continuing declines in commodity prices since the census was taken, nor does it show the impacts of unfair retaliatory tariffs from foreign countries on Kentucky farmers."
The 2017 Census of Agriculture showed that the market value of Kentucky agricultural products sold totaled $5.74 billion, up 13.2 percent from the previous ag census in 2012. The market value of livestock and poultry sold in 2017 was $3.2 billion, and the market value of crops sold came to $2.54 billion.
Net cash farm income in 2017 was $1.58 billion, a 78.9 percent increase over 2012. A severe drought in 2012 damaged Kentucky's corn and soybean crops and forced many livestock producers to reduce their herds because of shortages of pasture and forage as well as high feed costs.
The market value of specific agricultural commodities sold in 2017 included:
• Poultry and eggs – $1.31 billion, up 18.3 percent from 2012
• Cattle – $1 billion, down 3 percent
• Soybeans – $926.1 million, up 23.1 percent
• Corn – $825.1 million, up 19 percent
• Tobacco – $351.2 million, down 1.5 percent
• Milk – $166 million, down 19.6 percent
• Hogs and pigs – $128 million, up 0.5 percent
• Wheat – $112.625 million, down 44.4 percent
The value of crops sold in 2017 does not necessarily represent the sales from crops harvested in 2017, NASS explained. Data may include sales from crops produced in earlier years and may exclude some crops produced in 2017 but held in storage and not sold.
The market value of equine sold in 2017 was nearly $465.8 million. The data included animals sold or moved off the farm regardless of ownership, whereas the total in the 2012 ag census included only the value of owned horses sold. Sales of equine products – breeding fees, stud fees, and other products – totaled $105 million.
Income from farm-related sources totaled $418.8 million in 2017, a decline of 1.1 percent from 2012. Total income from farm-related sources includes cash rent; crop and livestock insurance payments; custom work such as planting, plowing, and spraying; tobacco quota buyouts; agritourism; and sales of forest products.
Government payments to farmers in 2017 totaled $126.7 million, a decrease of 25.4 percent compared to 2012. The category does not include Commodity Credit Corporation proceeds, payments from state and local government agricultural programs, and federal crop insurance payments. The 2012 figure included a spike in disaster payments.
The Census of Agriculture provides a detailed picture of U.S. farms and ranches every five years. It is the leading source of uniform, comprehensive agricultural data for every state and county or county equivalent. Census of agriculture data are routinely used by agriculture organizations, businesses, state departments of agriculture, elected representatives and legislative bodies at all levels of government, public and private sector analysts, the news media, and colleges and universities. To find out more about the Census of Agriculture, go to nass.usda.gov/AgCensus.
The NASS Kentucky field office is operated in cooperation with the Kentucky Department of Agriculture.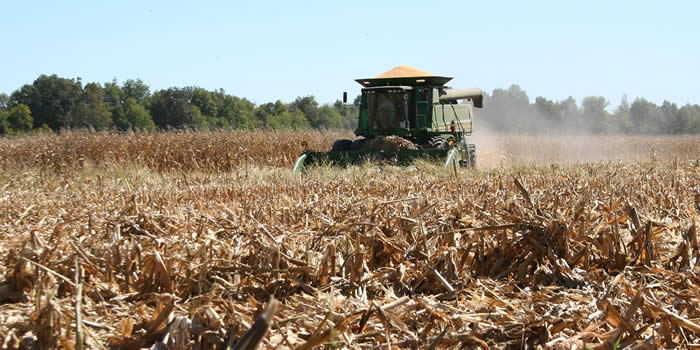 Sales of Kentucky corn in 2017 were up 19 percent compared to 2012, a year marked by a severe drought that damaged Kentucky crops. (Kentucky Department of Agriculture photo)