Sun Sugar Farms' Paperboard Containers are an Environmentally Friendly Way to Pack Produce
By CHRIS ALDRIDGE, Kentucky Agricultural News
VERONA, Ky. (Feb. 28, 2019) — Sun Sugar Farms shipped more than 2,600 pints of its Kentucky Proud cherry tomatoes last summer using a new, environmentally friendly container.
Owner Linda Fritz, a self-described "eco-warrior," has replaced the clear plastic clamshell produce containers seen in most grocery stores with sustainable produce containers made of paperboard. And from the comments she received last summer when she delivered her tomatoes to a Cincinnati-area Kroger store, shoppers like the change.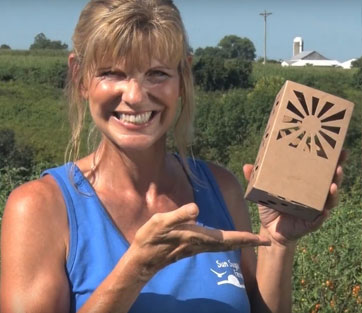 "I hope you replace all the clamshells here; I'm sick of all this plastic!" one shopper said.

"I'll pay extra for this packaging!" another one said.

"Customers love them and are happy it's not a plastic container," Fritz said of her pint- and quart-sized boxes, which are recyclable, biodegradable, and compostable.

The new white and brown boxes are also more pleasing to the eye. "Most [plastic] containers are ugly," Fritz said, describing her boxes as "really pretty."

"The vents that let you see the produce represent all the elements that help create the produce – the sun, the rain, the heavens, the plants, and even the worms," Fritz said on her farm's website promoting the containers.

Fritz, who grows sun sugar cherry tomatoes (for which she named her farm) and edamame on 10 acres near Verona, thinks other Kentucky farmers might like to switch from plastic to paper, too. She said she distributed "a couple hundred" samples in January at the annual Kentucky Fruit and Vegetable Conference in Lexington.

Since Fritz started selling her boxes last June, she said she has picked up "several dozen customers." Some of the farms are in Kentucky, but most of them are in Florida and other parts of the country. She received an email in late February from a strawberry farm in Spain interested in her containers.

"I'm in the middle, so [I'm] trying to get the farmer and the grocer to take ownership in the plastic that they're selling as part of the product," Fritz said. "There's a purpose for plastic, but not for single-use stuff. There are landfills near us, and that hill just gets bigger and bigger.

"I'd love to see Kentucky be a lot greener," the Pennsylvania native added. "It's such a beautiful state."

Fritz said most common plastic recyclables, such as water and soda bottles, melt at a different temperature than the ultra-thin clamshells, making the plastic containers "a burden to the recycling stream.

"Reusing plastic clamshells is not an option since sanitizing them with extremely hot water [like in a dishwasher] will cause them to melt," she said. "So they get thrown into a landfill where they'll take more than 200-plus years to biodegrade.

"This doesn't seem fair to repay the earth for its bounty with a chemical cocktail it can do nothing with."

For more information about Sun Sugar Farms' sustainable produce containers, visit cresbicrate.com.